Acoustiblok® Lands San Bernardino Airport Noise Solution
AcoustiFence® Airport Sound Abatement Project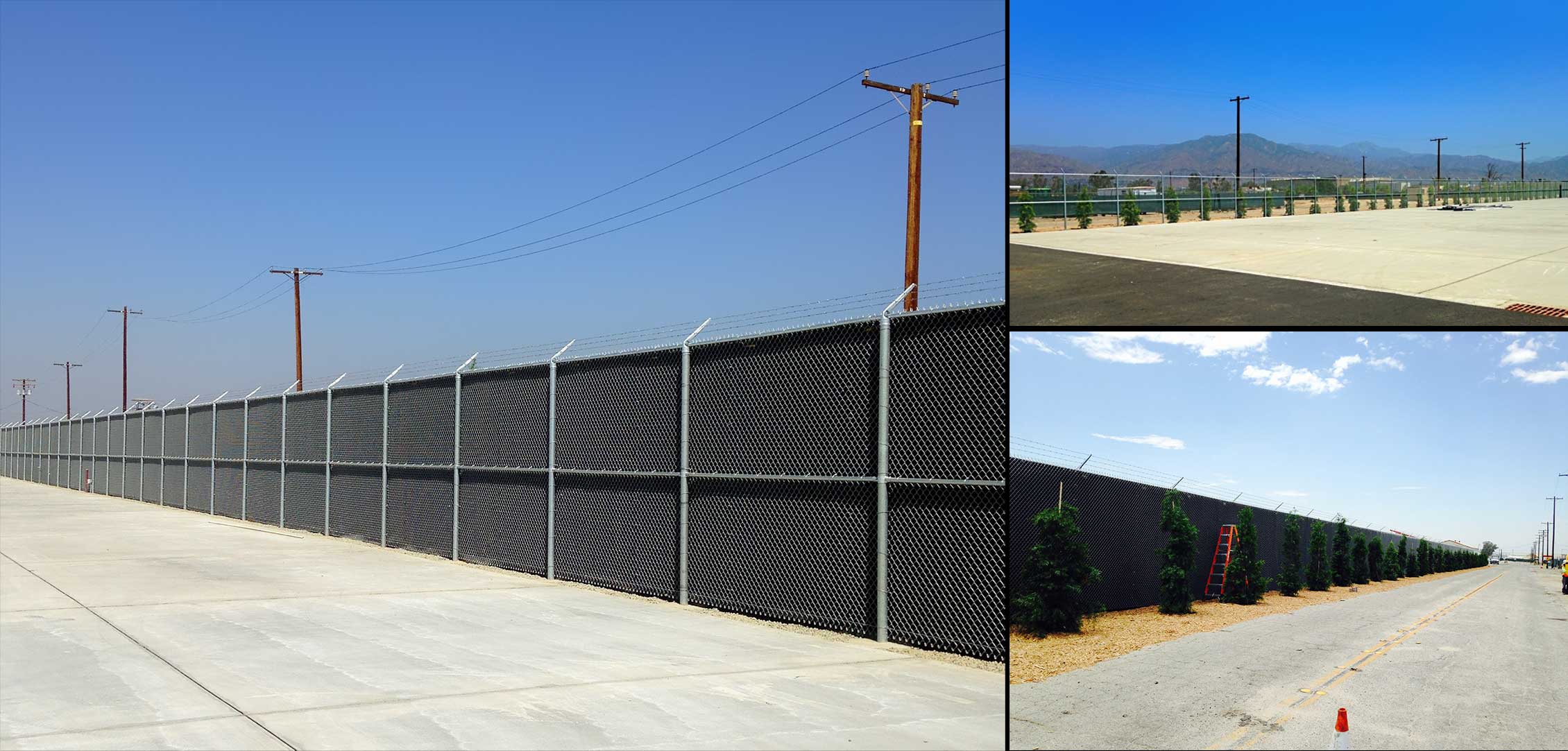 San Bernardino Airport Noise – Acoustiblok was contacted about an outdoor noise problem at the San Bernardino Airport in San Bernardino, California. A large section of the airport perimeter fence was installed with Acoustiblok's Outdoor Noise Barrier, Acoustifence® (pat. pend.). The installation was done by Crown Fence Company for GQ Aviation Engineering; GQ disassembles aircraft for aircraft parts and components and also repairs them, and needed something to reduce the overall noise created in the process.
Luis Vasquez, the project manager for Crown Fence, along with Hector Vasquez, the foreman headed up the team for the construction of the large section of fence requested by GQ. A double chain linked fence was recommended by Acoustiblok and mounted by Crown. The black shade of Acoustifence (also available in green, and made and sourced in the U.S.) outdoor barrier material was installed after the first fence was erected. With Acoustifence's grommets and stainless steel ties the task was relatively easy and went quickly. Once Acoustifence was in place the second fence was put in position. The double fence gave extra security and can easily withstand high winds and also keeps out blowing sand, dirt and dust.
Luis said, "The client was very happy. The fence was easy to install and my Acoustiblok consultant was knowledgeable and helpful. We highly recommend Acoustifence for outdoor noise and are going to be installing more at the San Bernardino Airport for the second phase of the project."
San Bernardino Airport
Located on the former site of Norton Air Force Base which closed in 1995, San Bernardino International Airport is located about two miles east of downtown San Bernardino and 14 miles northeast of downtown Riverside. The airport has continued to grow over the years; airport tenants include aircraft-maintenance in the large hangars, a fueling operation and the San Bernardino County Sheriff's Air Center that will include offices and facilities for both fixed-wing and helicopter aircraft. In addition, two new state-of-the art terminals were recently constructed one for domestic flights and the other for international.
The area surrounding the airport has attracted new businesses as well. There are now warehouses and fulfillment centers, companies such as Stater Bros., Kohl's and Amazon.com, Pep Boys, Pepsi, and Mattel. With all the business and traffic comes additional noise and noise complaints. In addition to its sound barrier properties, Acoustifence also increases privacy, and stops dirt and debris from blowing into the work area.
"When performing operations such as what GQ Aviation Engineering does, there are local noise and vibration ordinances that businesses must adhere to and while they may not required to put up an acoustical fence unless they exceed the allowable limits, often times they make the decision to install a noise barrier fence to keep noise at a minimum to keep good relations with the surrounding community of residential homes and businesses; they want to be good neighbors," said Lahnie Johnson, president and founder of Acoustiblok Inc.