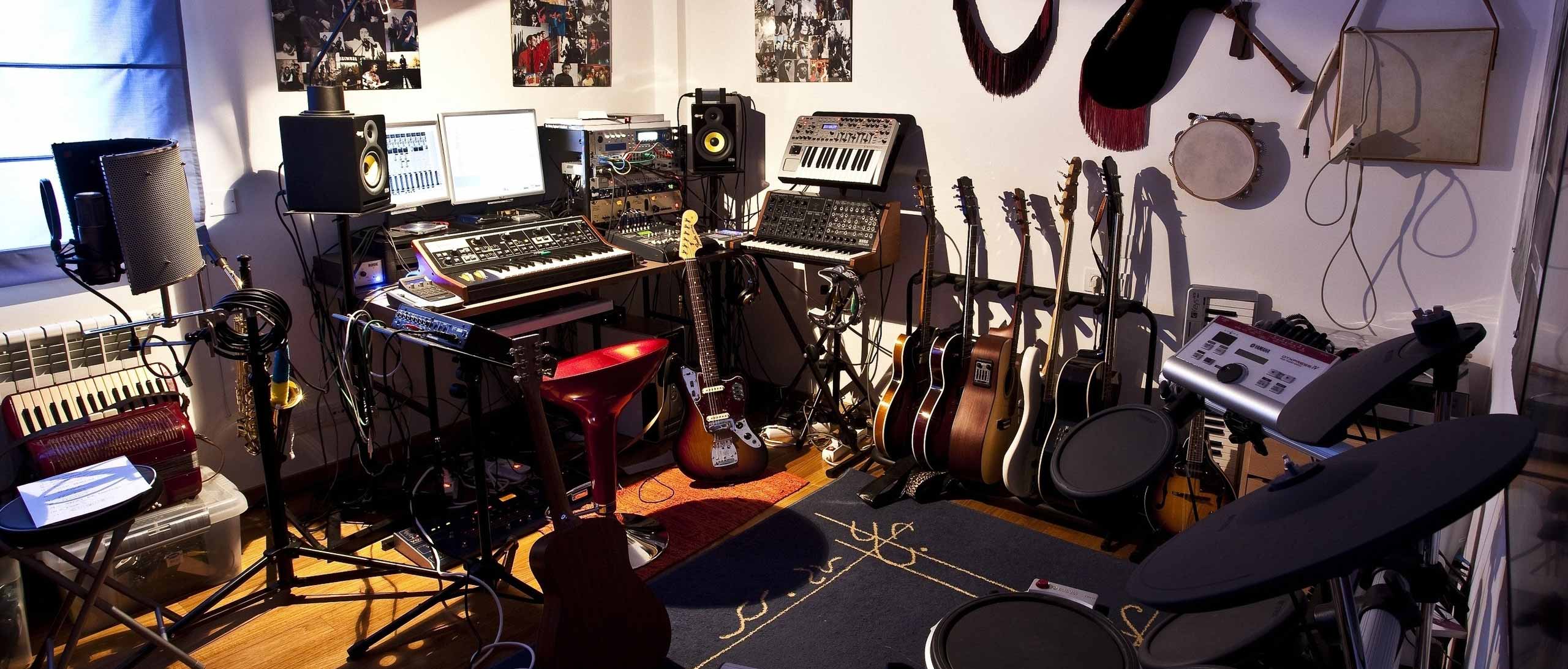 Home Studio Noise
Many of us enjoy a good jam session, but probably not in our own neighborhood. The problem is that houses were never designed and built to deal with the high levels of intensity that are present when playing musical instruments. Then to make it worse, those same instruments get plugged into large amplifiers and stacks of speakers like the ones you see at live concerts, just a smaller scale version.
Acoustiblok has the products to help all up and coming rock stars keep your neighbors at bay! 
Acoustiblok

(Blok16 &

Blok32)

– Is the ideal sound isolation membrane to line the walls, ceiling, and floor of your studio. These membranes are extremely efficient at dissipating extreme levels of impulsive and sustained sound across a wide-band of frequencies. Blok16 has an

STC of 26

& Blok32 has an STC of 32. The most effective levels of attenuation are gained from implementing these barriers at the time of construction. 
Acoustiblok Wallcover

(AWC)

– This unique material has the same acoustical attributes as our Blok16, but is the solution if your studio is already built. AWC is glued directly to the surface of your existing drywall. It can be left as is or covered with wallpaper, drywall texture, or painted. The finish is up to you. By adding AWC to your standard gypsum wall assembly you can get results of up to STC 53!
QuietFiber

(QF-2)

– This material is the icing on the cake. This is how you design the acoustical characteristics and specifics or your recording environment. QF-2 has an

NRC of 1.0

, comes in slabs 2" thick x 4' wide x 6' long. QF-2 is extremely versatile and can be applied in several orientations to give you that perfect sound your looking for.
Kill the destructive interference of the overbearing cymbals. Squash the crippling edge of the lead guitar. Give the rhythm guitarist the tonality he's been looking for. Bottom line is that QF-2 is a tool, to help you achieve the perfect acoustical feel you want in your studio. Quiet Fiber is sold in bulk to give you the best value and most versatility in terms of form and function.  
So if you need a high performance, custom solution in terms of reflection control and modal attenuation in your studio, please feel free to contact us directly to speak with a residential studio specialist.