Acoustiblok® Mass Transit Noise Solutions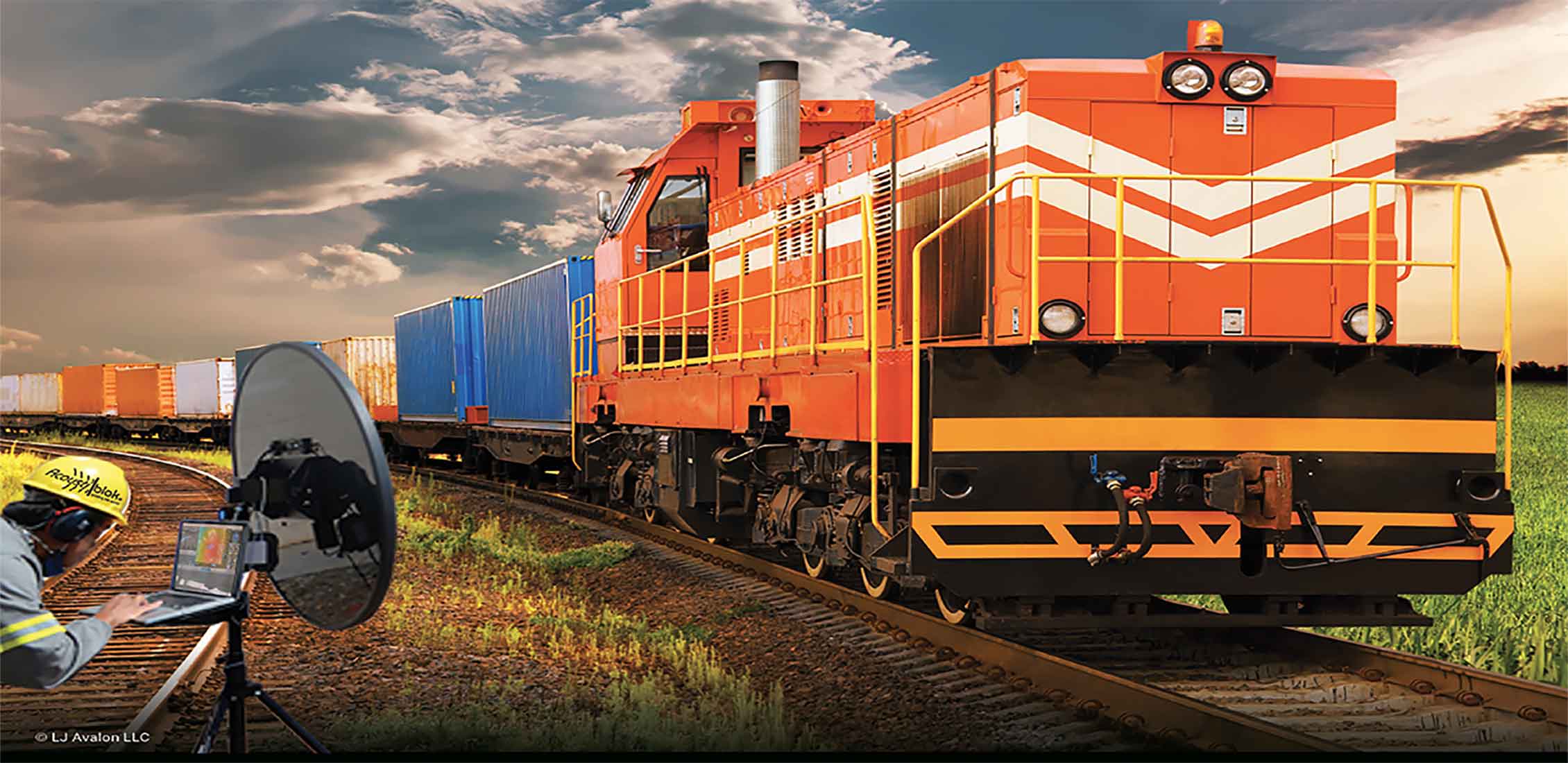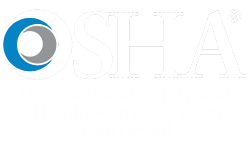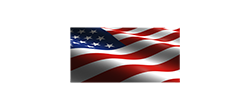 Light Rail Noise Solutions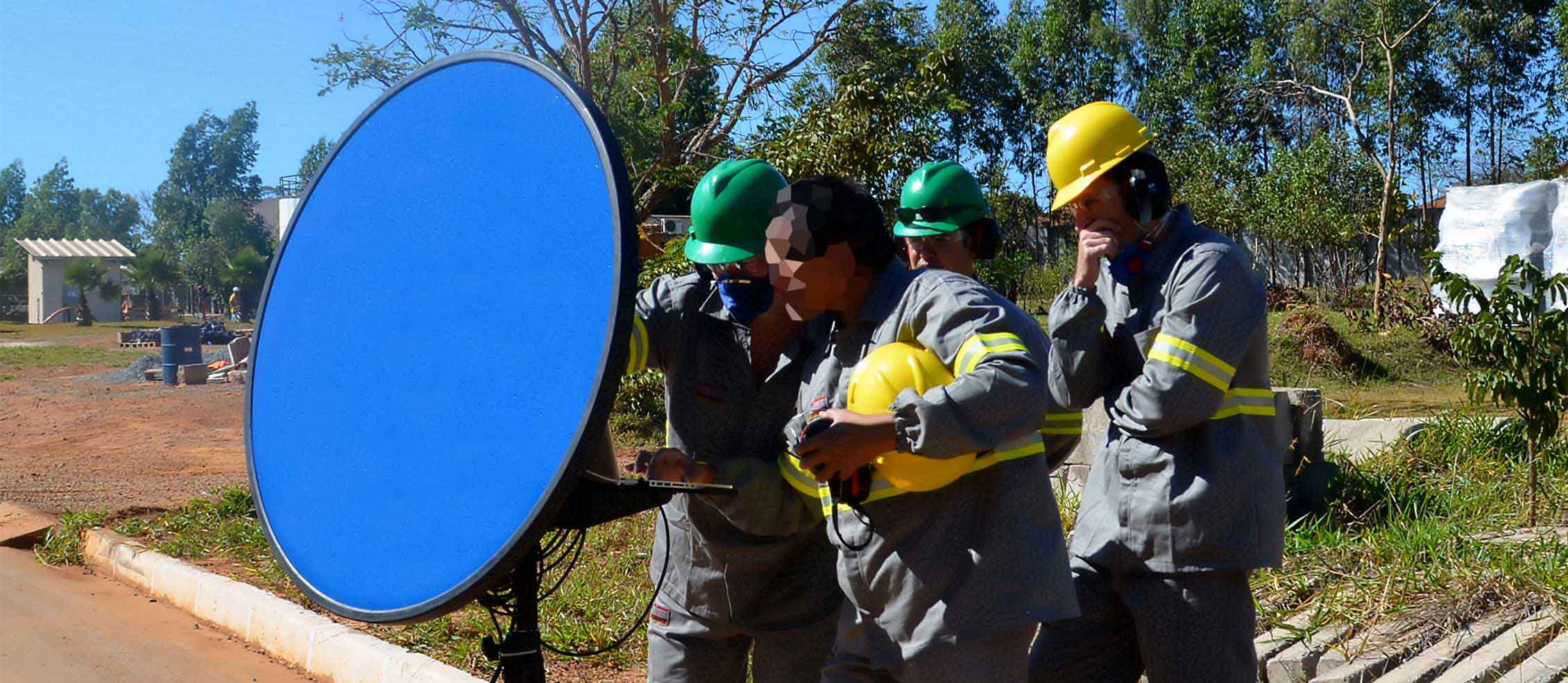 Acoustical Real-Time Video Imaging System™
Acoustiblok now offers our customers the "Acoustical Real-Time video Imaging System™". The acoustical camera allows us to "see" sound in real-time (as you would "see" thermal contours with an infrared FLIR camera). We can measure the intensity and overall frequency content of the noise and its reflections. We can visually identify the direction, source and frequency spectrum of the noise.
This provides us with an extremely powerful tool.  We have the capability to immediately address noise problems with a very high degree of confidence. Which saves an incalculable amount of time and money. This new technology will revolutionize the science of sound abatement.
AcoustiFence®
Sound Transit Authority's Justin Garrod is the project manager for the Link Rail System in Seattle. He was called upon to find a solution to the high noise level that exceeded federal standards and dramatically affected the area resident's quality of life.
After researching and trying other methods, Garrod and his staff discovered AcoustiFence.  This product provides a perfect solution because it is comprised of a unique sound deadening material. At only 1/8 of an inch thick, it not only blocks sound, but at very low frequencies it can also absorb sound. You can mount it easily to virtually any structure using the brass grommets on the edges.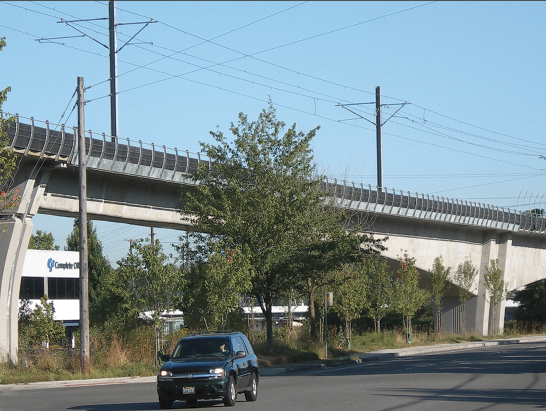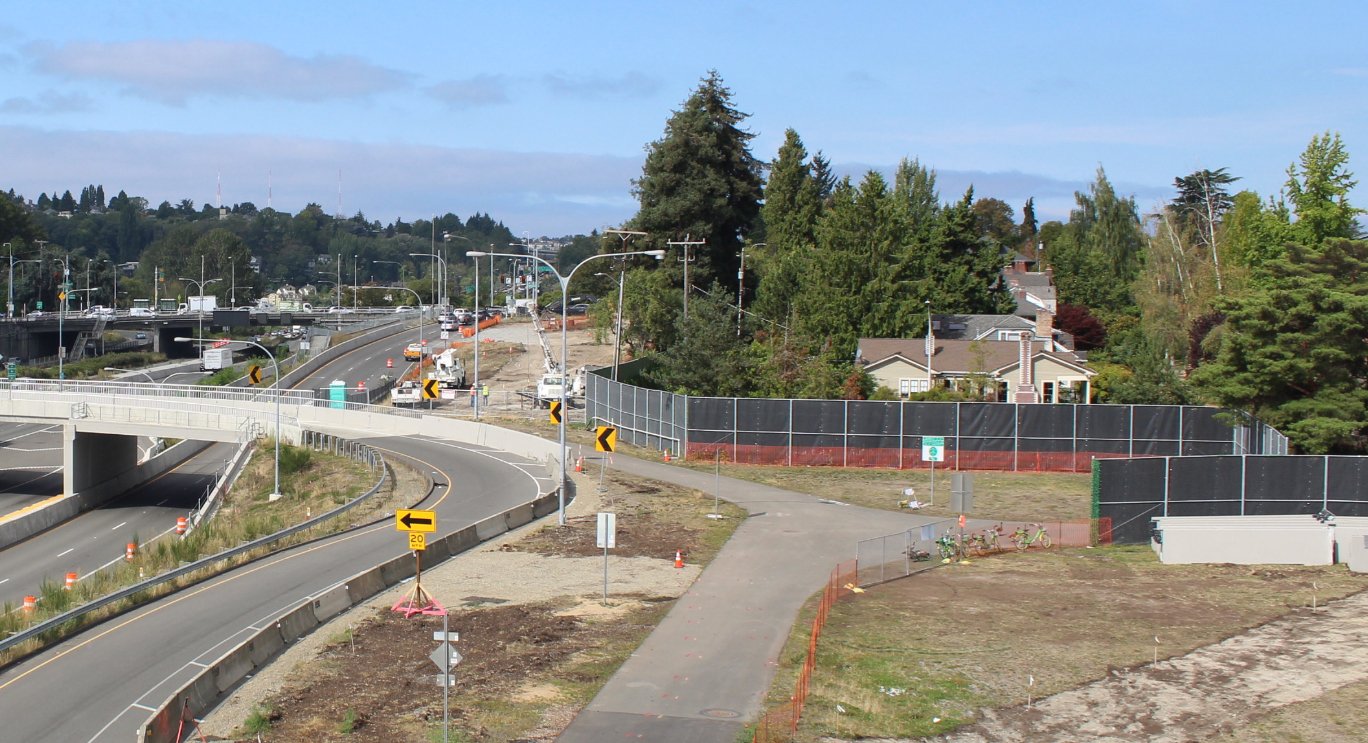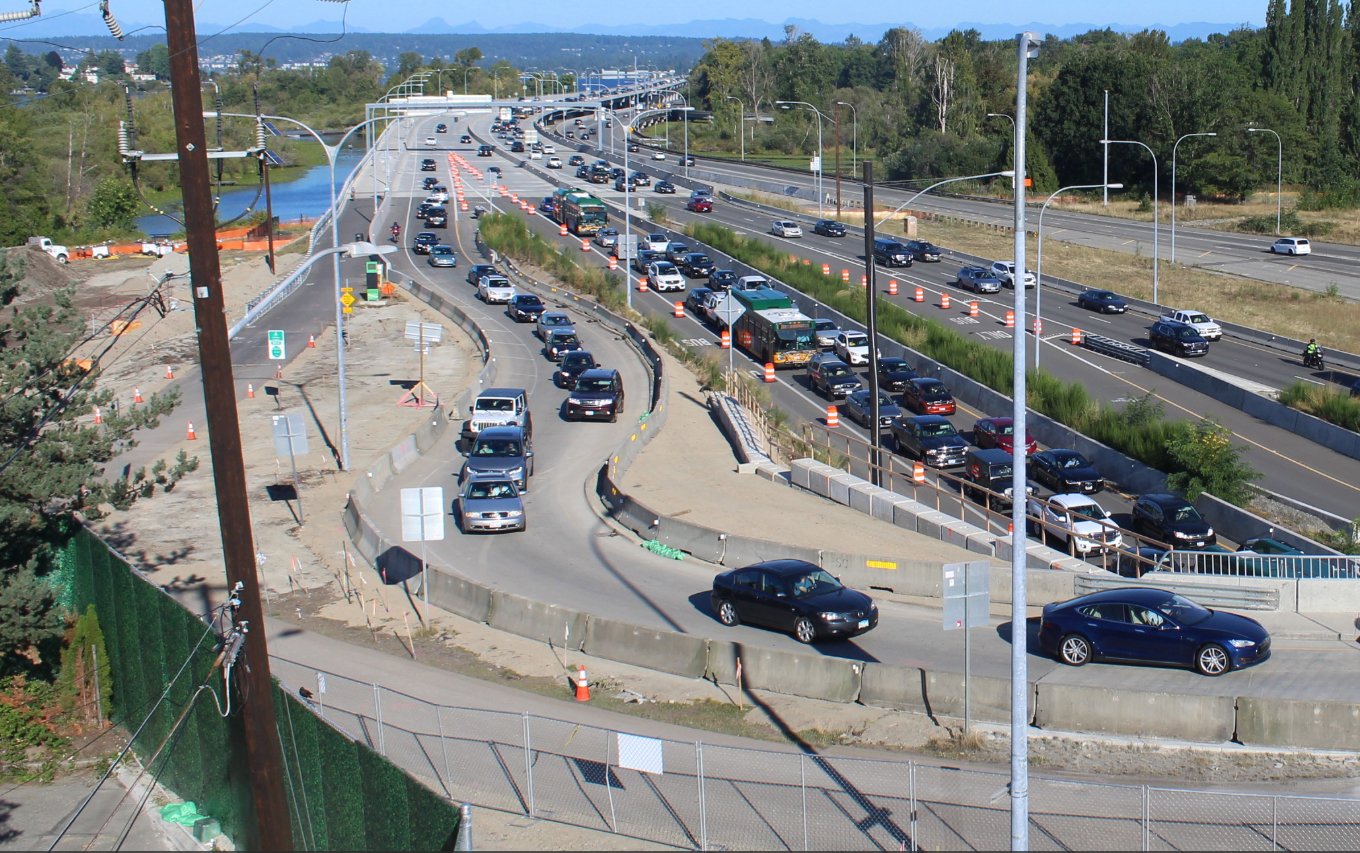 AcoustiFence® continued…
When the Washington State Department of Transportation (WSDOT) began planning the upgrade of SR520, they were required to submit a Noise Management and Mitigation Plan for the Montlake Phase of the project, as it would subject residential areas to high levels of noise during both the day and the night.
One of the additional noise control measures they adopted was to use temporary and mobile noise barriers. Acoustiblok provided WSDOT with our patented Acoustifence product with our landscape print on one side. This was important because the residents expressed concerns during community outreach that any noise reduction barriers be aesthetically pleasing during the construction period.
All Weather Sound Panels®
Acoustiblok All Weather Sound Panels were used to resolve a significant noise problem on a new rail line in Washington, DC.  These panels not only block the sound but also absorb virtually all noise.  Unlike a solid material barrier wall, which reflects the wheel noise back to the car and over the top of the wall.
The panels were easily attached using stainless steel U-bolts to an existing railing. This eliminated the need for a very expensive reflective concrete barrier.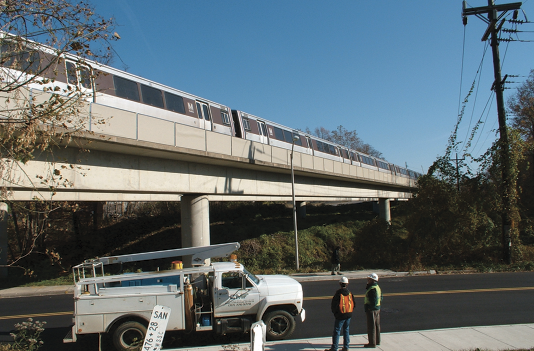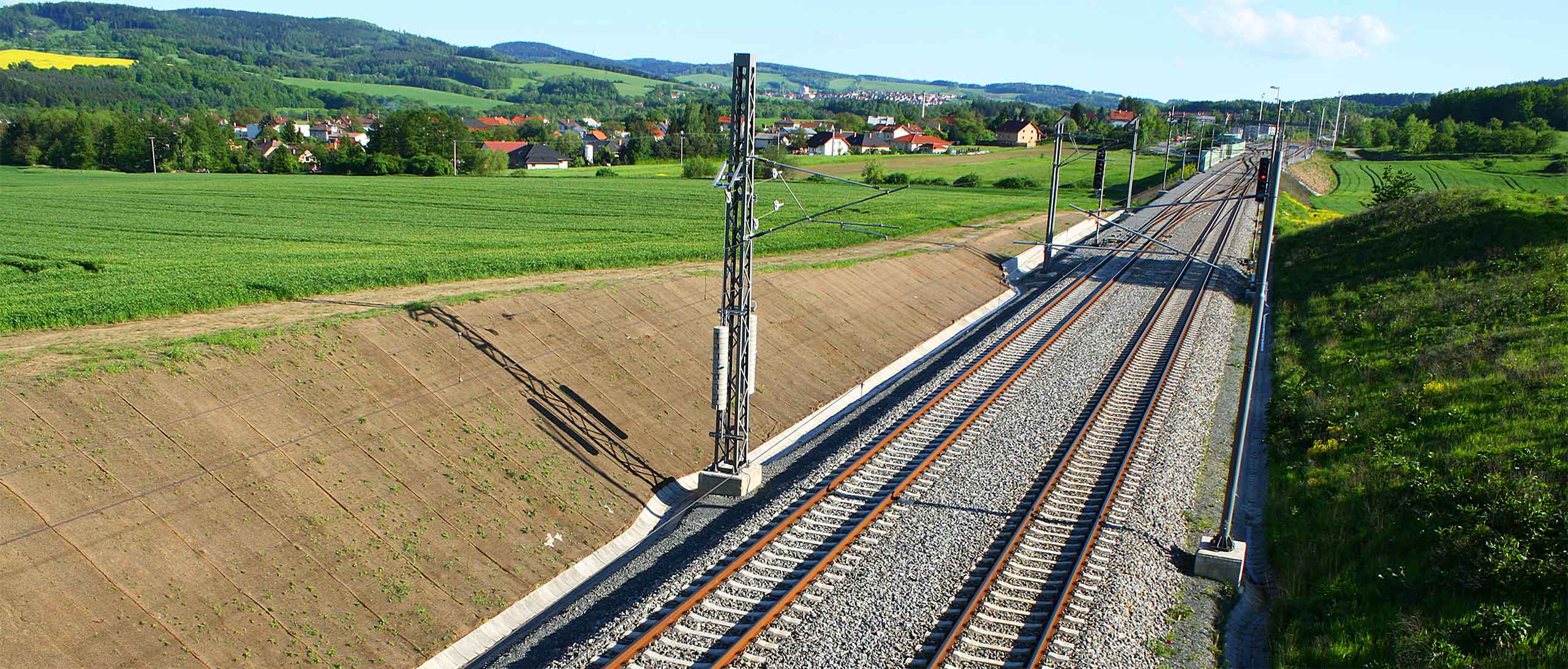 Transportation Noise Reduction
Noisy roads, noisy bridges and noisy railways, the ever-growing population will only make this problem worse. As more and more transportation lanes open up they will most definitely encroach on our residential communities and work places. This means that more thought will need to be put into isolating these transportation corridors to make our communities livable. Acoustiblok can help at the conceptual stages of some of these projects and also at post construction stages. Our patented HAWSP's (Hurricane All Weather Sound Panels) and our AF-6 (Acoustifence) are great solutions to this ever-growing problem. We would love to hear from you should you have a transportation noise challenge that needs a resolve.
Railway Noise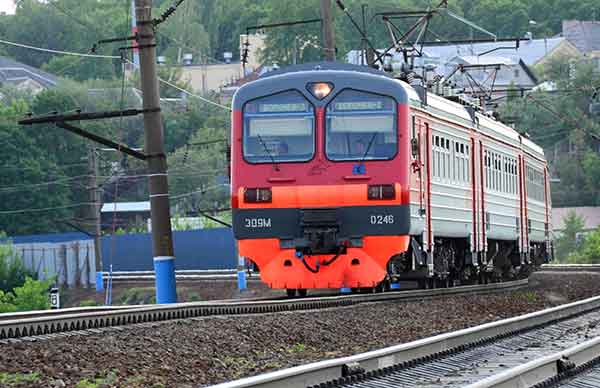 Railway noise has several areas that can raise a challenge in terms of acoustic mitigation. Large freight trains have a couple of different noises to reduce: one is the sound of those big diesel locomotive engines; it's loud, low, and constantly moving. The other is the track noise created by the steel wheels riding on the steel track; this is in the higher frequency range and just as intense.
This noise source is called a line source not a point source, and is more like a cylinder of noise than a sphere of noise so train noise only decreases by 3db for each doubling of distance from the source.
Modern day electric trains don't have the loud diesel engines creating that low frequency we have all heard when a train is passing, but they do have entirely different problems; they make noise when they start moving and when they slow down pulling into the station. They create noise due to the velocity at which they travel. They also have massive fans that generate a lot of noise in front, underneath and on the top of the trains. These noises are a problem as there may be tighter constraints in and around train stations and rail lines. These areas create a lot of reflective paths for these noises. Due to the thickness of our All Weather Sound Panels (AWSP's), it makes for an easy resolve near the tracks. Our panels can be tied to a railing or attached to an existing wall. This is all to absorb some of the more critical and annoying high frequencies from the train motor spool up as well as the track noise. AWSP's can easily follow a twisty track along the countryside or fit in tight areas in or near inner city stations.
If you need a highly sustainable, high performance, easy to implement solution for a rail project, Acoustiblok's "All Weather Sound Panels" are the solution. At a mere two inches thick, delivering a NRC of 1.0, and a STC of 30, these panels work incredibly well.
Please feel free to contact us directly to speak with a railway noise specialist.
Bridges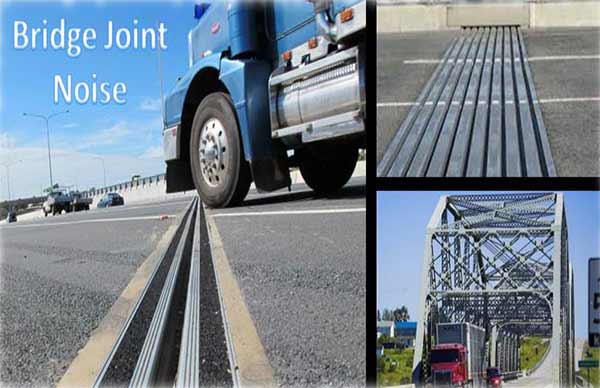 Bridge joints make noise, and a loud noise at that. You may hear a muffled noise from inside your vehicle, but those within earshot hear a much louder sound. Traveling over bridge joints in a motorized vehicle creates a short noise impulse that ranges from 70-105 decibels. How loud is that? It is as loud as a garbage disposal, dishwasher or lawnmower. If the bridge joint is broken or damaged, it can get as loud as a bulldozer. These joints may also have mechanical components that rub or squeak. Our (B-JIM) bridge joint isolation material system mitigates these noisy sections of a bridge.
To read more about the noise problems generated by bridges and to see some solutions for those problems, click here.
Roadway Noise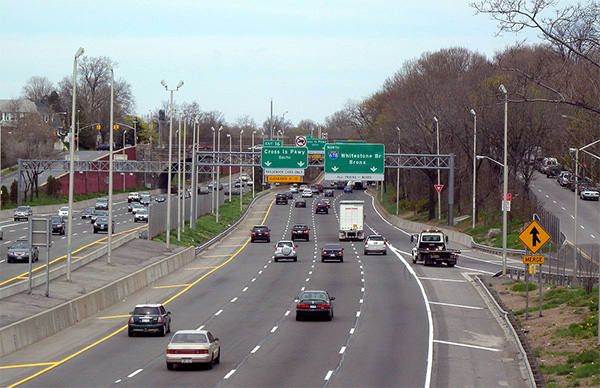 Road traffic contributes to most of the noise in and around a city. Road traffic alone contributes to the majority of noise heard over a twenty-four hour period. The problem is that the noise source is a line source not a point source, and is more like a cylinder of noise than a sphere of noise so car noises only decrease by 3dB for each doubling of distance from the source. The source is measured from approximately 8 feet above the road surface at receiver points of interest. In general, road noise from the frictional contact between the vehicle and the ground and air movement will exceed the engine noise of a vehicle at speeds higher than 37 mph. Exceptions will exist at intersections, hills, and changes in engine speed or power exerted.
Noise barriers have been around and modified for decades. Some of the variables that affect the outcome of traffic barriers are the line of sight (transmitted path), angle of incident, related to the (diffracted path), and the indirect path of transmission (reflected path) to the receivers of the noise.
Barriers need to be as close to the noise or receiver as possible. The greater the barrier height from the line of sight, the greater the attenuation. Barriers should be solid, >4 lbs. per sq. ft. and airtight. However the materials used need not exceed the attenuation from diffraction effects. End diffraction effects will considerably hinder the attenuation of a barrier. Make sure the barrier is 4 times the length of the distance from the barrier to the receiver.
Acoustiblok's All Weather Sound Panels (AWSP's) can be an excellent resolve for many types of issues involving roadway and railway noise. The panels can be implemented in an infinite configuration of height and length. The panels are impervious to the elements; hurricane tested at over 270mph, have high mass and absorption elements, and can be a permanent or temporary solution.
Please feel free to contact us to speak with a traffic noise specialist.