Atlanta Motorsports Park Noise Barrier
AcoustiFence® Atlanta Motorsports Park Noise Reduction Project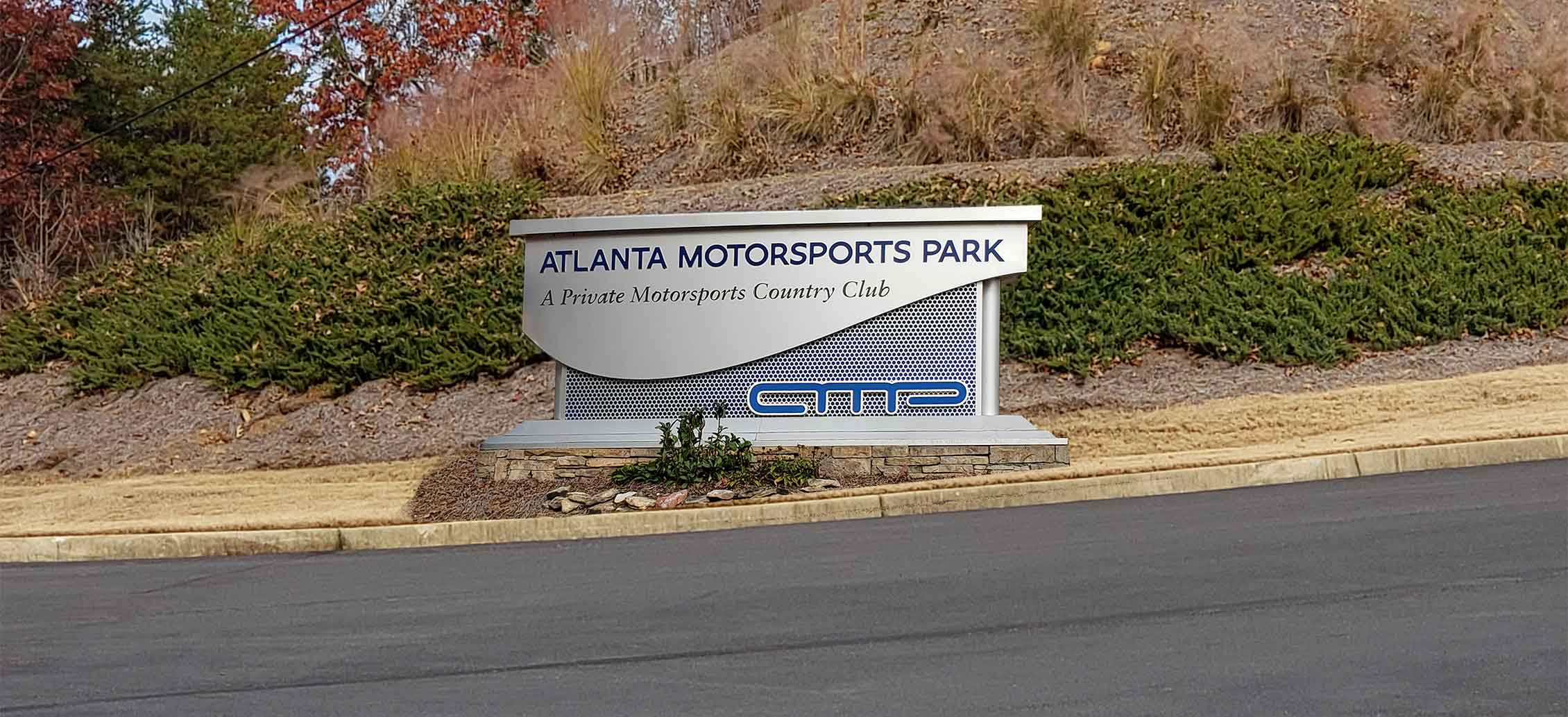 Atlanta Motorsports Park Noise Barrier
Atlanta Motorsports Park Noise Barrier – Located eight minutes from downtown Dawsonville, GA,
Atlanta Motorsports Park
is a private member country club for motorsports enthusiasts who own a sports car and want a place to drive it fast and legal. Cars and trucks run on AMP's 2-mile, professionally designed race circuit where the average lap speed is about 124 MPH. Noise levels from these high-revving, fast moving automobiles can range from 50 to 105 decibels, which can be a problem for residents who live near the facility, especially since AMP runs racing about 180 days of the year and also holds about 20-30 additional drivers school activities each year. In addition to automobile racing, AMP features three kart tracks, a driving school, rental garages, pit area, clubhouse, tennis courts, pool and other recreational areas.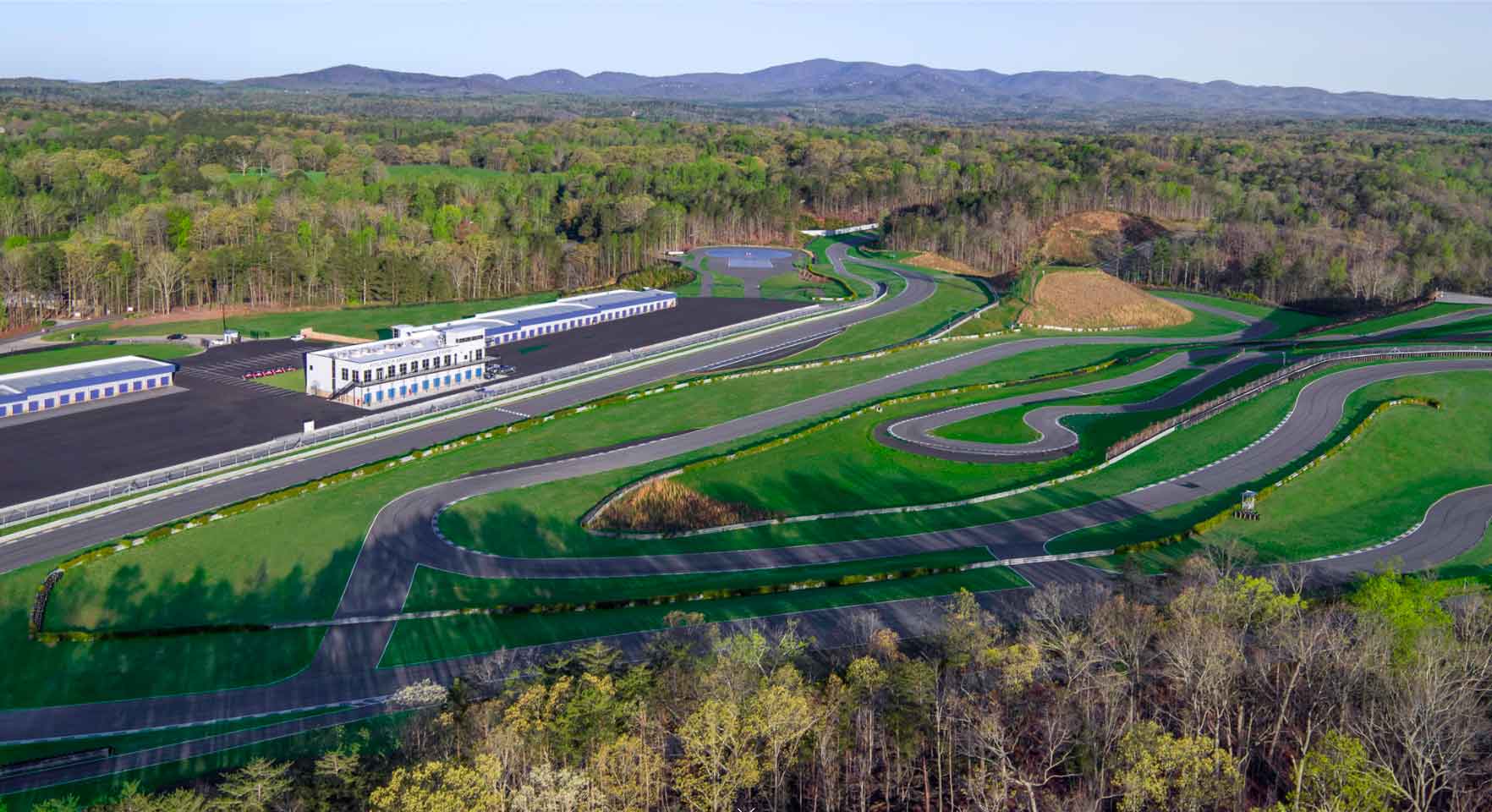 According to CEO Jeremy Porter, they had a need for a new Atlanta Motorsports Park noise barrier. Their previous sound wall system, which included the use of natural hay bales, was deteriorating and was never up to their standards. They wanted a sound barrier that was both modern and sustainable so they examined many options.
"AcoustiFence had the qualities we were looking for in a modern outdoor acoustical sound barrier fence. We wanted a "green" and "sustainable" sound barrier product because we are an environmentally-conscious organization. AcoustiFence has the sound transmission loss (STL) performance we needed plus its also "green" in the sense that is has 80 percent recyclable materials in it and is 100 percent recyclable itself," said Porter.
AcoustiFence is a modern day acoustical soundproofing product manufactured by Tampa-based Acoustiblok Inc.  It is an advanced material sound barrier that is placed between a noise source and the noise receiver. Originally designed and used on offshore drilling rigs, the product consists of a thin, unique 1/8th inch, 6′ x 30′ (3mm x 1.83mm x 9.14m), heavy mineral filled, barium free, viscoelastic sound deadening material that easily attaches to chain link or wooden fences. Having black anodized brass eyelets every six inches on the top edge and some on the bottom, the material allows easy hanging or attaching to the fence or to just about anything in approximately 30 minutes with two people.

Having an effective noise barrier was important to AMP because the motorsports country club prides itself on being environmentally friendly, as well as a good neighbor to the hundreds of residents who live nearby.
"Acoustifence's environmental properties were one of the deciding factors for us. We thought it was outstanding for our needs so we bought and installed enough to surround two-thirds of the perimeter," he said.
Lahnie Johnson is President and Founder of Acoustiblok Inc., "Our Acoustifence product is an economical way to reduce outdoor noise that doesn't require major construction. Two people with a few small hand tools can install the acoustical barrier in about 30 minutes if a fencing system is already in place," he said.
Unlike often tried natural sound barriers such as fences, shrubs or hay bales, the Acoustifence material not only blocks direct sound, but also reduces very low frequency sound from reflecting off it.
"We're happy with Acoustifence. It was easy to install and it's working. It's also green and sustainable. The customer service was great and so was the shipment time," Porter said.
"Since we've had the Acoustifence, the neighbors tell us that they love the new fence. They said they think the Acoustifence works better than our previous sound barrier and they think it is more attractive to look at as well," he said.