Quieting Guanabanas Outdoor Music
AcoustiFence® & Guanabanas OutdoorMusic Noise Reduction Project
Quieting Guanabanas Outdoor Music – The tropical, waterfront setting of Guanabanas restaurant on Florida's southeast coast invites guests to pull up and dock their boat or arrive by more traditional means, and settle in for a meal, a drink and most nights, live music.  but the acoustics were causing a problem in paradise, as sound from the live music, amplified by the stage's proximity to the water, was rising to decibel levels above Palm Beach county ordinance limits.
Guanabanas' sound engineer Matt Cahur worked with acoustical consultants at Acoustiblok, Inc. in Tampa, to determine the best approach for reducing noise from the outdoor stage during live performances without detracting from the restaurant's lush, tropical setting complete with tiki huts and a large customized chickee hut bar, giving the property a definitive Caribbean flavor.
Guanabanas utilizes a wide variety of Florida's lush tropical vegetation and woods for all of its decor. The stage, tables, chairs, fencing and all wooden structures are made of Florida pine and bamboo. The property itself is generously landscaped with palms, ferns, bromeliads, gladiolus and a variety of additional native flora.
The challenge was to find an effective sound barrier that would meet, or even surpass local noise ordinance limits without interfering with the meticulously designed property.
"We've tried a lot of different noise abatement solutions to stop the noise bleed form our property during the live performances, but nothing worked," Cahur said.
"We have been searching for the right product that will not only address the sound issue, which exacerbated because of the sound reflecting off the water, but one that we can conceal within decor. AcoustiFence met every single requirement, from a technical, structural, sound and design perspective.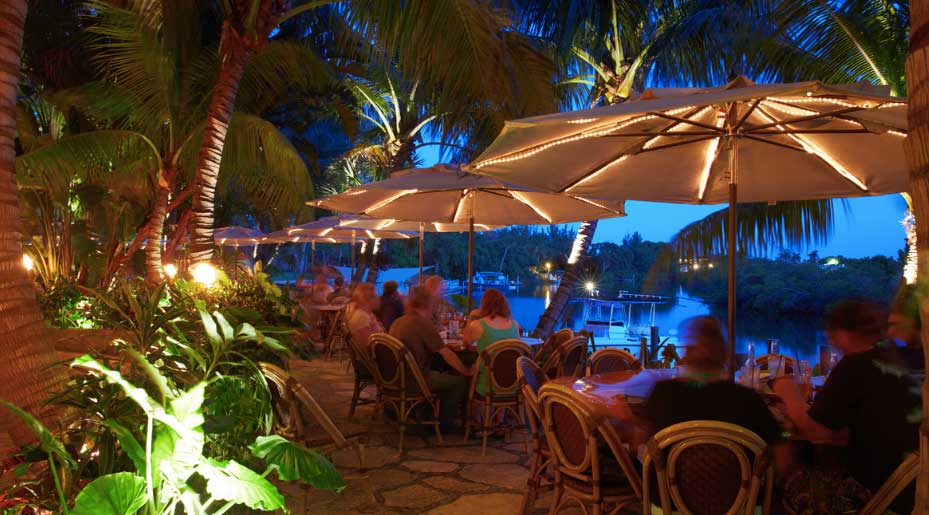 Cahur said the AcoustiFence material was easily hung on top of the property's existing fence, and then concealed within the restaurant's trademark tropical landscaping, resulting in a noise barrier that is completely undetectable to restaurant guests. AcoustiFence was also hung on the stage door and walls, and concealed with natural wood planks and other thematic decor.
Sind AcoustiFence was installed, Cahur says the live music is in full gear and the neighbors are no longer left to deal with the loud music emanating from the stage.
"We haven't gotten a call since we put the AcoustiFence in," Cahur said.
Lahnie Johnson, founder and president of Acoustiblok, Inc., said the application of AcoustiFence at Guanabanas' was the perfect combination of sound abatement material and architectural landscaping that can make an outdoor entertainment venue passable almost anywhere.
"We designed AcoustiFence to install easily, so that it can be used as a temporary or permanent noise barrier," Johnson said.
"The ultimate use of AcoustiFence is to conceal it under vegetation or in a garden setting, which gives the illusion that the vegetation is providing the privacy and noise reduction, which is exactly what Guanabanas' has done with excellent results. Since vegetation alone does nothing to reduce sound, concealing AcoustiFence under the vegetation to act as a noise barrier is the perfect solution, any way you look at it."