Wastewater Treatment Facility
AcoustiFence® Wastewater Treatment Noise Barrier Project
TAMPA, FL, January 16, 2013 – An
Acoustifence
barrier recently installed near a noisy exposed aerator motor at the Hillsborough County Northwest Regional Facility resulted in an immediate and significant reduction in noise pollution for neighboring residents.
The facility is part of a 1,500-acre multi-use tract owned by Hillsborough County. It is a Type 1 advanced wastewater treatment facility built to process five million gallons of wastewater per day. The facility is located on a 67-acre parcel of land at 10890 South Mobley Road in Hillsborough County Florida. A residential community called Highland Park is located near the county facility.
Last year, members of the Highland Park Residential Community voiced their complaints about loud whining noises coming into their community from the nearby county facility. The facility took action to find a solution to the noise issue. In residential areas, road traffic noise is usually the major source of noise, with air conditioning/heat pumps, generators, construction, and industrial noises also problems typically.
Wastewater is sewage, storm water and water that are used for various purposes around the community. Unless properly treated, wastewater can harm public health and the environment. It is not uncommon across the United States for wastewater treatment facilities like Northwest to be located within hearing range of residents living in a particular area.
The wastewater treatment facility noise source was a 200-HP Carrousel vertical, high efficiency aerator drive motor located on top of the facility's 24-foot Oxidation Aeration Basin structure according to Flint Seth, general manager of bio solids production and maintenance at the Hillsborough County Northwest Water Reclamation Facility.
Doug Fisher of the Hillsborough County Public Utilities Department worked with Acoustiblok to devise an economical solution consisting of an L-shaped frame barrier with four 6 X 30 foot-Acoustifence outdoor noise reduction panels secured to it. Acoustifence is a product of Acoustiblok Corporation. Witt Fence Company of Riverview, Fla., was contacted by Hillsborough County personnel to install the barrier.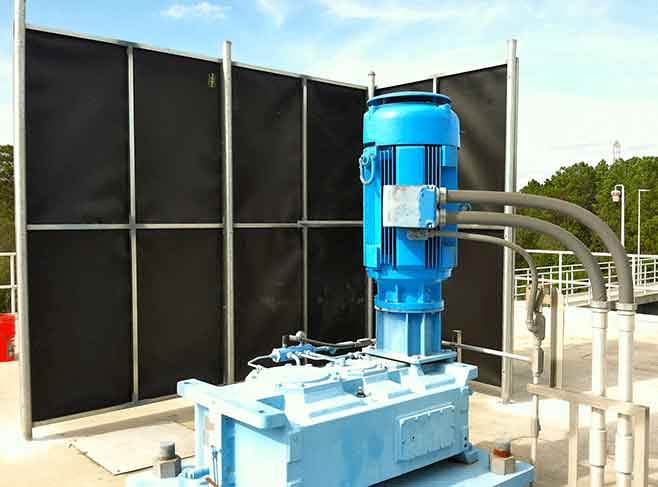 Wastewater Treatment Facility

Doug Fisher of the Hillsborough County Public Utilities Department worked with Acoustiblok to devise an economical solution consisting of an L-shaped frame barrier with four 6 X 30 foot-Acoustifence outdoor noise reduction panels secured to it. Acoustifence is a product of Acoustiblok Corporation. Witt Fence Company of Riverview, Fla., was contacted by Hillsborough County personnel to install the barrier.
From a technical standpoint, Acoustifence is an advanced sound barrier. A sound barrier, by its own named definition, is put between the noise source and the listener. Some barriers can be made of virtually anything that sound does not penetrate. There are however, differences and distinct advantages in some over others. Unlike a concrete block wall, which in one respect is a good sound barrier, the Acoustifence actually flexes with certain frequencies, especially very low frequencies. In the process of sound waves physically moving it, the product transforms sound wave energy into inaudible internal friction energy. A concrete block wall would not do this. As the Acoustifence is only 1/8 of an inch thick, it is very easy to position it closer to the noise source. The closer a barrier is to the noise source the more restricting it becomes to the initial sound waves.
Acoustiblok's Acoustifence product is a unique proprietary formula. It is a heavy mineral filled viscoelastic polymer material that is 1/8 inch thick and made in the United States. It comes in 6 X 30 foot-sheets. It is one of the most effective first steps in reducing noise for many applications including industrial, commercial, and residential. The amount of noise it reduces however is much related to other reflective structures in the area.
Sound pressure is measured in decibels. The average person can hear sounds starting at 0 to 1 decibel. A typical conversation occurs at 60 decibels – not loud enough to cause damage. An idling bulldozer (not bulldozing) is loud enough at 85 decibels that it can cause permanent damage after only 1 work day (8 hours). If a sound reaches 85 decibels or stronger, it can cause permanent damage to a person's hearing with prolonged exposure. The amount of time a person listens to a sound affects how much damage it will cause.
A noise meter was used to measure the difference in sound before and after the installation of the noise barrier fence at the wastewater facility. Typical noise from these Carrousel vertical aerator motors ranges from 80-83 decibels from three feet away according to the manufacturer. From 10 feet away, the noise measured 79 decibels before installation of the Acoustifence began and registered 69 decibels immediately after the fence was in place. In a 10 decibel decrease in sound level, perceived loudness is cut in half to the human ear.
"While we were pleased with the reduction in sound decibels picked up by the meter, the most significant difference that we noticed was the reduction in noise heard by the ear. The reduction in noise felt significantly higher than what registered on the sound meter," said Seth.
According to OSHA, typical engine noise, mainly caused by mechanical and combustion forces, can typically range from 100 – 121 decibels measured at approximately 10 feet.
Besides the proven and tested sound reduction qualities of Acoustifence, another beneficial quality of the product is that it is quick and easy to install. "Once we determine the technical solution to a noise issue, the installation of our products is not time consuming or labor intensive," said Lahnie Johnson, President and Founder of Acoustiblok.
Installation of the sound barrier at the Hillsborough County facility was fast and they encountered no unexpected problems. "It took only one day to install the barrier and it resulted in an immediate decrease in directional noise for our facility," Seth said.
"Acoustiblok's success is not just about the products we have invented but more about the innovation of the products in finding solutions for people's noise problems. For advanced problems, we incorporate state-of-the-art acoustical prediction software modeling. This allows us to really tie down what the results will be in advance of someone's purchase and of course can result in huge financial savings to the customer," Johnson added.
While the solution to the noise issue at the wastewater treatment facility was not a complex one, it was an effective one for Hillsborough County. "The Acoustifence barrier made a difference and we are very pleased with it. We have not received any new complaints about the motor noise since the installation of the barrier fence so that's a good sign so far. We are currently planning to build additional barrier fences for some of the other vertical aerator motors we have on site," Seth added.
While Hillsborough County is happy with how the small amount of Acoustifence quieted the large pump, Johnson sees this as the first of literally thousands of similar pumps around the country and overseas hat may need a similar noise abatement solution.
About Acoustiblok – "Quieting the World"
Acoustiblok Corporation, a NASA "Spin-off" company headquartered in Tampa, FL, provides acoustical soundproofing solutions for noise related issues. The company develops, manufactures, and markets lab tested and certified acoustical products around the world, earning the industry's highest ratings from architects, builders, and consumers.
Primary products include Acoustiblok® viscoelastic polymer based soundproofing material, Acoustifence® outdoor noise barrier, All Weather Sound Panels®, QuietFiber® insulating material, Quiet-Cloud® industrial sound absorption panels, Acoustiblok WALLCOVER®, and Thermablok® nanotechnology insulation. The company also sells a line of acoustical soundproofing accessory products. Acoustiblok products are used every day primarily in industrial, residential, commercial, building and construction/architectural, and marine sectors worldwide. The company's products are made and sourced in the United States.
Acoustiblok Corporation ships products to approximately 60 countries around the world and has a network of stocking distributors both in the United States and internationally. The company operates a wholly owned subsidiary, Acoustiblok Mideast, in Saudi Arabia to augment our distributor network.