Industrial High Velocity Blowers
AcoustiFence® & QuietFiber® High Velocity Blowers Noise Reduction Project
SANTO DOMINGO, Dominican Republic, October 11, 2012 – Acoustiblok, Inc., announced today that the recent installation of Acoustiblok noise blocking material and QuietFiber sound absorbing material at the Ethical Labs production plant in Santo Domingo has provided enough noise abatement to lower noise levels in a louvered structure housing industrial high velocity blowers by 71 percent.
The Acoustiblok and QuietFiber installation, conducted by Carlos Montas, the Dominican Republic representative for Acoustiblok, Inc., lowered decibel levels from 80dB to 62dB, even with a portion of the louvers remaining open.
Montas, owner of Edelca – the industrial power engineering company that prepared the electrical system of the entire pharmaceutical production plant – says the project required layering QuietFiber sound absorbing material on top of Acoustiblok, on both the interior walls and door of the metal structure.
Representatives of Ethical Labs said they were thrilled with the results, which took the unbearably loud blower noise down to a decibel level that was no longer a distraction to anyone.
"We are totally impressed with how well the products worked," says Carlos Mendez of Ethical Labs. "When the project was half way done we could already hear a difference, it's amazing."
Montas, who designs and installs industrial emergency generators throughout the Caribbean's coastal regions, installs QuietFiber in all of his projects to deaden industrial noise.  Both the Acoustiblok and Quiet Fiber materials are easily cut to fit around electric conduits, and secured to the walls and ceiling with standard insulation stick pins.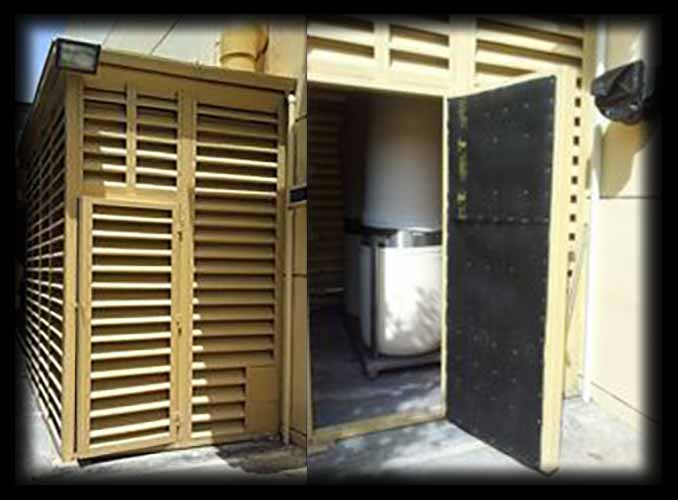 Industrial High Velocity Blowers
The sound deadening qualities of the layered Acoustiblok and QuietFiber materials will help to protect the pharmaceutical plant's employees and visitors from the high volume industrial noise contained within the enclosure. Lahnie Johnson, president and founder of Acoustiblok, Inc., says that the application of Acoustiblok and QuietFiber in the louvered structure housing the blowers was the best possible solution for addressing the high decibel, reverberant sound emanating from within.
"Both Acoustiblok and QuietFiber are designed to withstand this type of hot, humid environment," Johnson said. "When you're addressing this type of industrial noise within a louvered structure, you need a layer of noise blocking material, which the Acoustiblok material provides, and a layer of noise absorbing material, which QuietFiber provides.
"Combined, you have proven maximum noise abatement, high temperature rating for fire blocking, and hydrophobic (resistant to moisture) qualities that make the solution a success."
About Acoustiblok:
Acoustiblok, Inc., a NASA spin-off company, has been providing high quality noise abatement products since 1998, earning the industry's highest ratings from architects, builders, and consumers. Acoustiblok is a proprietary viscoelastic polymer material with a high density mineral content, heavy and yet extremely flexible. As sound waves cause the Acoustiblok material to flex, internal friction occurs and the acoustical energy is transformed into inaudible trace amounts of heat (adiabatic).
Just one, 1/8-inch layer of Acoustiblok in a standard wall can result in more sound reduction than 12-inches of poured concrete. Environmentally friendly, Acoustiblok contains no lead, barium, or asbestos, is UV resistant and impervious to water and mold; it is UL rated and classified in the US and Canada (CUL) for virtually all wall, floor, and ceiling installations.
About QuietFiber:
High sound absorbency QuietFiber is a two-inch thick interior/exterior noise solution that can also be cut to fit and simply hot glued underneath a bar, cabinets, countertops, tables, chairs, behind a wall tapestry or curtains. Slide a QuietFiber "pillow" on top of cabinets, or anywhere else that reverberant noise and echo is a problem.  Easily cut to size with a serrated knife, QuietFiber can be concealed almost anywhere.
Used industrially for reducing noise, QuietFiber is a non-fiberglass material designed to absorb the maximum amount of sound (NRC 1.00). Fireproof, totally hydrophobic (will not absorb water or moisture), washable, non-deteriorating, mold and mildew-proof.
QuietFiber® is used extensively for industrial noise reduction in large diesel generator rooms. It is also the answer to any space in need of a quick noise fix. QuietFiber is easy to install anywhere noise is a problem, without spending thousands of dollars to retrofit sound abatement material under drywall, or cover walls with expensive sound panels.
QuietFiber is UL fire rated for floor, wall and ceiling applications, 100 percent recyclable and 100-percent made in the USA.