Galleria Massive Generator Room
QuietFiber® Galleria Generator Room Noise Reduction Project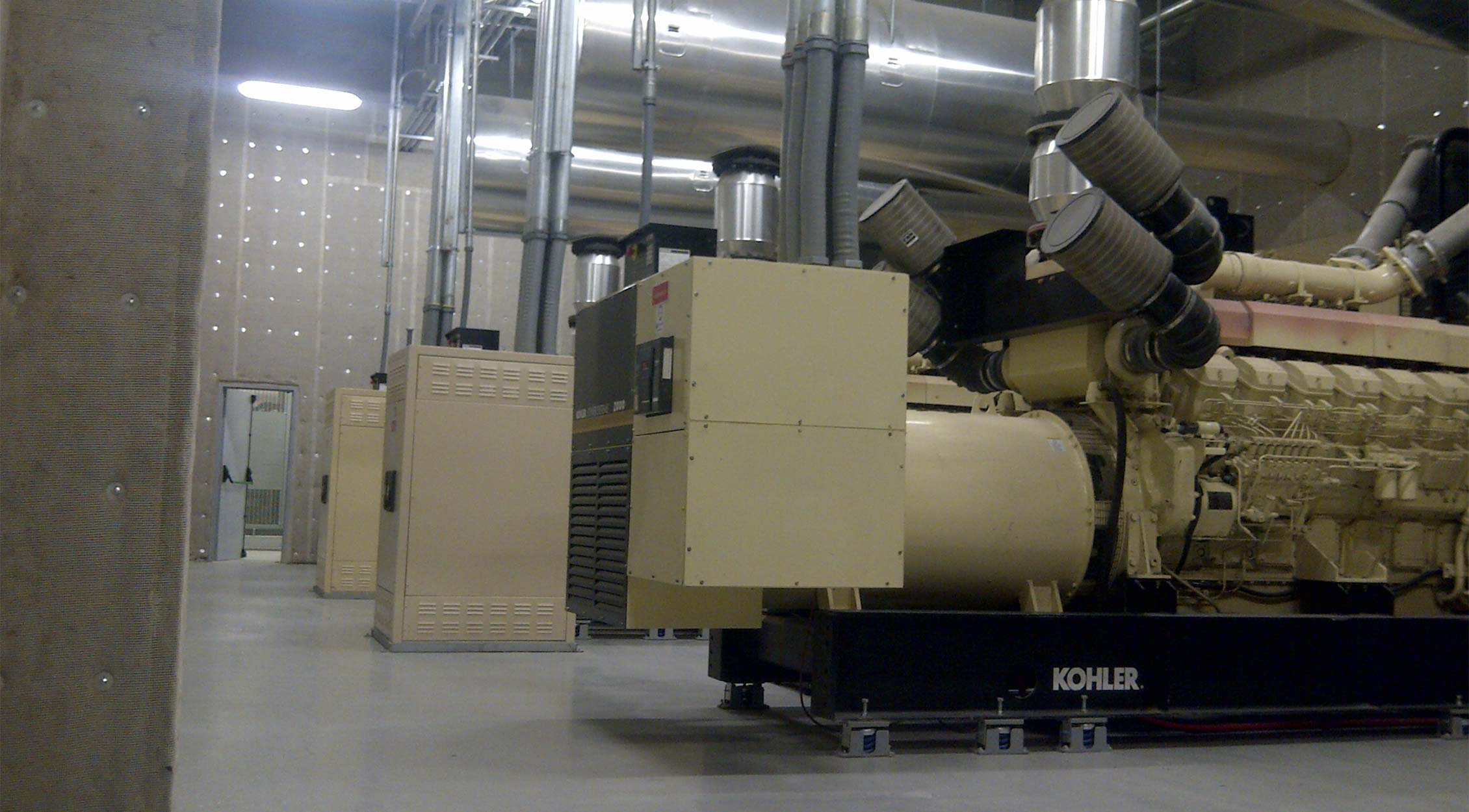 Industrial noise pollution from back-up generators is a growing problem in the Dominican Republic and throughout the world. One generator designer installed QuietFiber noise absorbing material to lower the decibel levels at the newly constructed Galleria 360 mall in Santo Domingo.
SANTO DOMINGO, Dominican Republic, May 15, 2012 – Installation of 18,000 square feet of QuietFiber® noise absorbing material has been completed in the massive generator room of the newly constructed, 750,000 square foot Galleria 360 mall in Santo Domingo.
QuietFiber, a product of Acoustiblok, Inc. in Tampa, Florida, was installed on the ceiling and walls of the mall's generator and substation rooms. These rooms house the industrial emergency generators necessary to keep power running in this coastal area of the Caribbean, plagued by frequent power outages.
The Galleria 360's industrial generators, installed by Santo Domingo-based Troncoso & Asociados, are a staple in this island republic. Edelca owner Carlos Montas, the Dominican Republic representative for Acoustiblok, Inc., consulted with Jay Boland of Acoustiblok, Inc. and recommended QuietFiber on the project after achieving excellent results with QuietFiber on a similar project at the La Sirena Superstore in the eastern coastal town of Higuey, Dominican Republic.
"Even though QuietFiber is not the least expensive product on the market, I keep coming back to it because the results beat all the competitors' noise deadening products with double the noise insulating qualities," Montas said. "The customer on this job wanted to install a double layer of a different product but I convinced him to try the QuietFiber.
"I've been designing and installing these emergency generators for 20 years, and I have never had the results from other noise abatement products that I have with QuietFiber, and now I'm trying to use it everywhere."

Montas says noise from these industrial generators on which the island has become dependent in order to maintain consistent power is a major problem plaguing businesses and residential property owners when the generators are running. Not only is generator noise bad for business, but its constant drone can cause permanent hearing loss. Another important consideration in the selection of soundproofing material is its fire resistance.
Recently in Santo Domingo a serious fire started in a generator room, and the existing foam sound proofing material was a prime contributor. The fire caused Montas to search for a new fireproof solution. QuietFiber is fire resistant even at 2,000 degrees.
"The noise levels are almost unbearable, so you need to have an adequate level of soundproofing in place when they are running," Montas said. "I always install noise absorbing material wherever I install my generators, and QuietFiber is the best soundproofing product we've ever used."
Montas and his crew were able to easily cut the QuietFiber to fit around electric conduits, and secured the material to the walls and ceiling with standard insulation stick pins.
The sound deadening qualities of QuietFiber will help to protect the mall's employees, and streams of tourists and local residents from the high volume industrial noise caused by the generators when they are operating.
Lahnie Johnson, president and founder of Acoustiblok, Inc., says that the application of QuietFiber in the Galleria 360 generator and substation rooms was exactly what was needed for addressing the high decibel, reverberant sound emanating from the concrete walls.
"QuietFiber was designed with this type of hot, humid environment in mind," Johnson said. "When you're addressing solid surface noise issues, which in this case with concrete walls, you need a product with proven maximum sound absorption, high temperature rating for fire blocking, and hydrophobic (resistant to moisture)."