AWSP® Water Treatment Plant Noise Reduction Project

MANALAPAN, Florida, March 1, 2012 – Installation of Acoustiblok® "Hurricane" All Weather Sound Panels at a water treatment plant in the Manalapan-Hypoluxo island community of West Palm Beach is complete, ending an almost year-long battle to quiet noise that was bleeding from the plant into residential areas of the tiny island community.
In March, 2011 residents of the secluded community, tucked between the Atlantic Ocean and the Intracoastal Waterway in Palm Beach County, began complaining about noise from the island's water treatment plant that was disrupting their tranquil setting. Town officials at first requested the plant be enclosed, but later deemed enclosure impractical and requested other options that would allow the sound insulating structure to be moved or removed, and would also allow easy access to the plant equipment for maintenance and repairs.
They eventually turned to Kurt King, an engineer with West Construction in nearby Lake Worth, to find a solution. King, an expert in creating noise barrier solutions for water treatment plants and other facilities with loud pumps, blowers, compressors, exhausts and industrial machinery, chose to install Acoustiblok's Hurricane All Weather Sound Panels at the Manalapan Water Treatment facility.
"The kind of equipment used at a water treatment plant can be quite loud," King said. "In this case, the noise was coming from two sites and bleeding into the adjoining neighborhood."
Noise at the water treatment plant stemmed from a stand-alone pump station and a separate station with a blower and vacuum pump intake/exhaust, scrubber exhausts, compressors, vents and blow-downs.
With the help of Acoustiblok consultant Marilyn Myers, King designed an assembly of nine Acoustiblok Hurricane All Weather Sound Panels to place around the noisy pump station, and a 14-panel assembly around the exhaust blower site, using a combination of 4 foot x 8 foot and 4 foot x 10 foot panels.  Immediately upon installation, King said the decibel levels were reduced by 70 percent or more.
"In my opinion they worked very well," King said. "The architect and property owners were very pleased, and the panels suited this job because they are engineered specifically to withstand outdoor elements in some rough weather areas like this one directly on the Atlantic shoreline."
Lahnie Johnson, founder and president of Acoustiblok, Inc., said the Hurricane model of the company's All Weather Sound Panel was specifically designed for settings like this one on the Manalapan-Hypoluxo island.
"The decision to use Acoustiblok All Weather Hurricane Panels to reduce the industrial noise from this water treatment plant was a win-win for everyone," Johnson said.
"Whenever you have high maintenance equipment like this, you need sound barriers that allow for easy access to it, and you need a solution that can withstand the high winds, humidity, salt air, dirt, dust, sand and other elements that are unavoidable in an oceanfront environment.
"Extreme dust conditions can disable conventional sound absorbing systems, while these panels are engineered to perform as well in the worst conditions as they do under calm conditions; and since they both block noise and absorb it, you could not have found a more all-inclusive solution to this community's noise problem," Johnson said.
About Acoustiblok "Hurricane" All Weather Sound Panels:
Acoustiblok, a NASA "Spin-off" company, developed the Hurricane All Weather Sound Panels, engineered specifically to withstand the most rigorous outdoor and industrial environments. Water, moisture, humid salt air or salt water, dirt, dust, UV, chlorine air, corrosion, and most harsh chemicals do not affect them. The industrial Hurricane panels are available with an acoustically transparent five micron stainless steel dust filter for outdoor use in the world's toughest environments, from the mining industry to the desert areas of the Middle East, and other applications where dust is a concern. Acoustiblok sound panels are extremely durable and are currently in use by the United States Army in the Middle East.
Washable, durable, long lasting and usable in hundreds of areas and applications, the Acoustiblok "Hurricane" All Weather Sound Panels are not just "sound absorbing" but also "sound blocking." This allows the panel to not only absorb sound but also stop the sound from penetrating through the panel, a very meaningful advantage over conventional "sound absorbing" panels that stop sound reflections but are poor sound barriers.
With an unprecedented noise reduction coefficient (NRC) of 1.00 (Riverbank Acoustical Laboratories test results), they are the only noise barrier wind-load tested to 270 mph. Rigid and self-supporting, they can be used like building blocks to permanently or temporarily enclose any noise source, such as chillers and industrial machinery.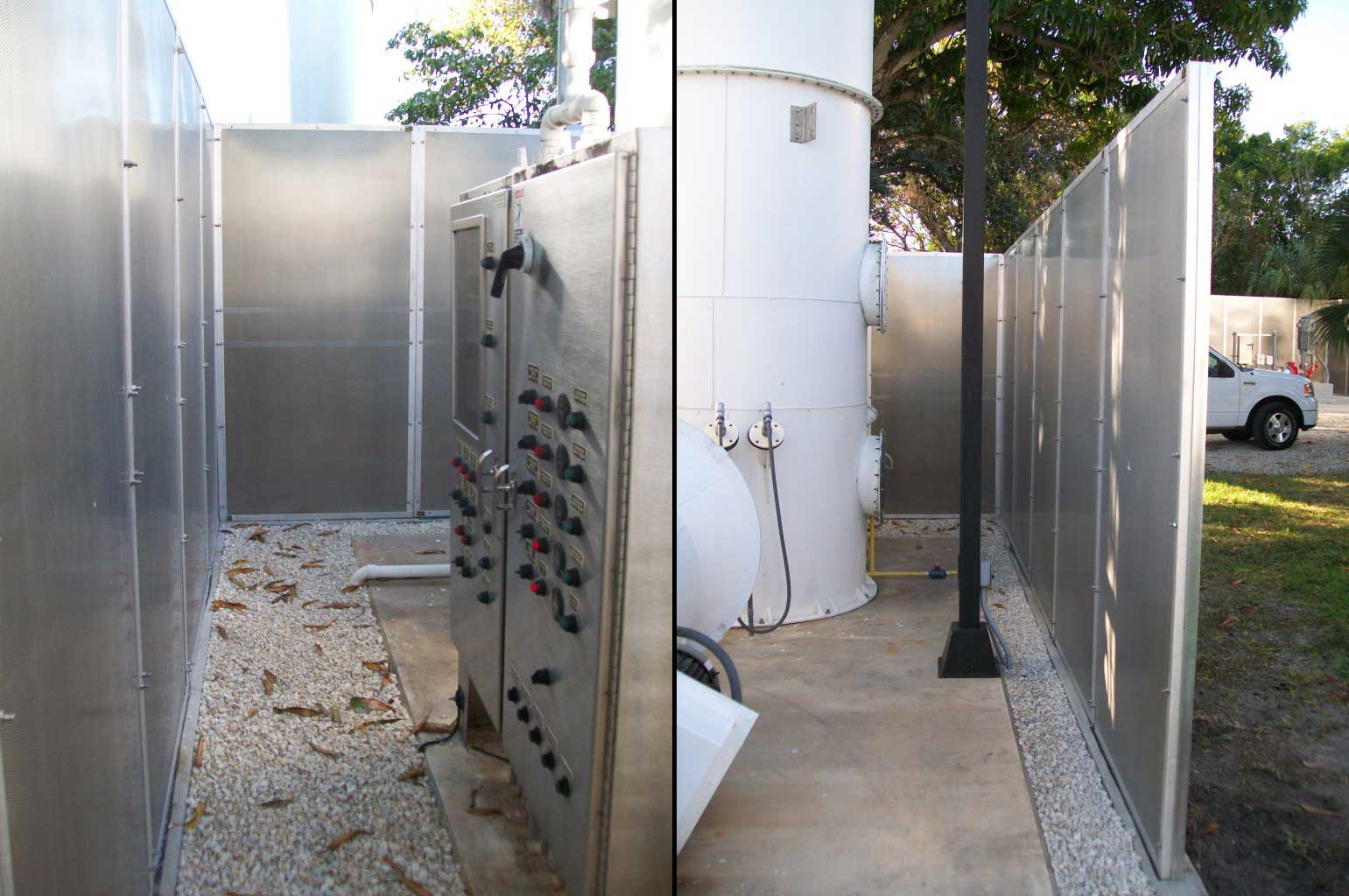 Tiny Island Community