Condenser Noise Health Solution
All Weather Sound Panel Noise Barrier Project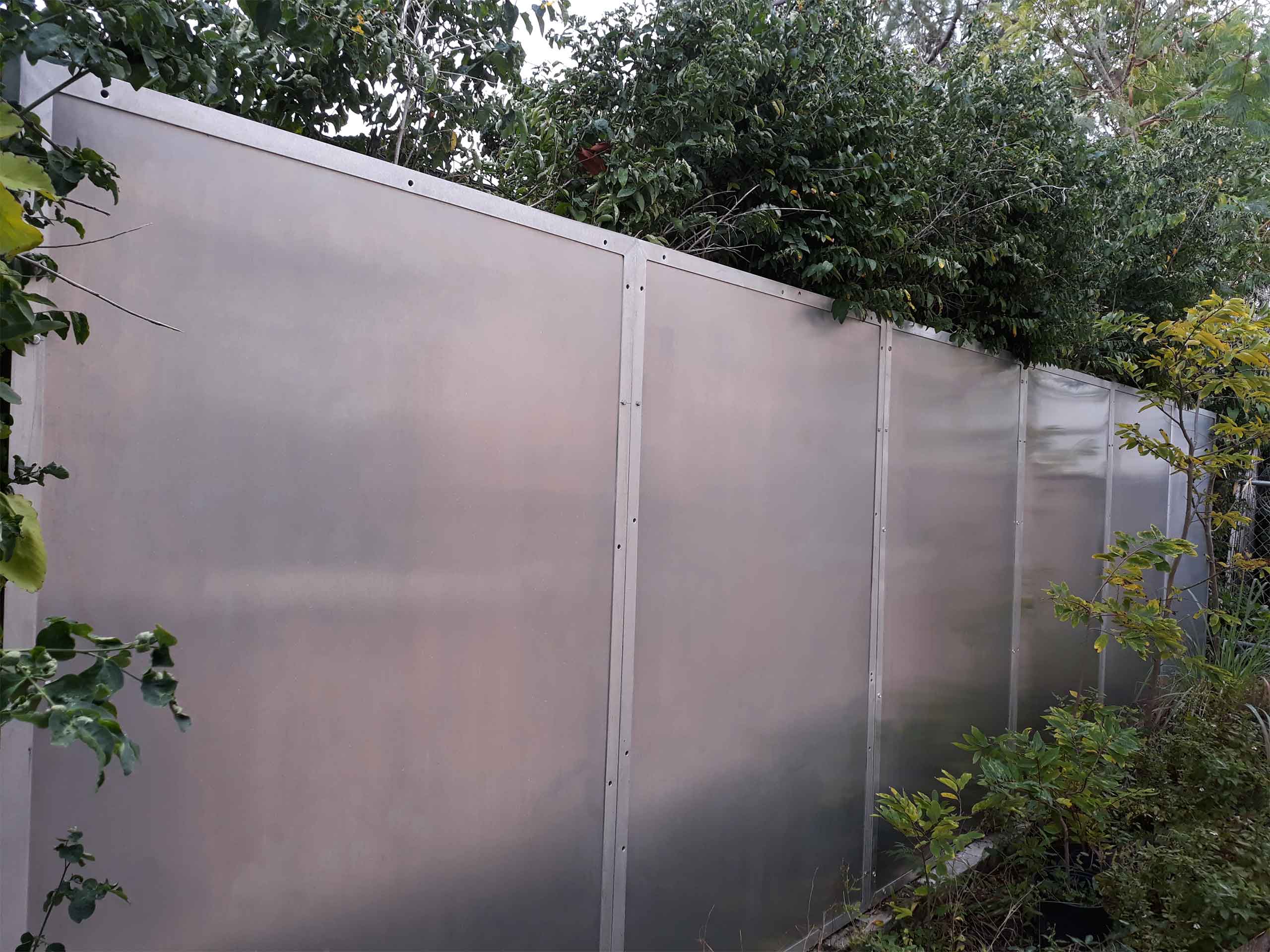 Condenser Noise Health Solution – "Wonderful true story about the sound panels that improved my health; I did not realize this amazing product could help in eliminating the noise by 90%, until I tried.
So to start, my master bedroom window is literally facing my neighbor's air conditioner condenser, which is about 10' away.  It is a huge and old unit.  Every time the condenser runs, I can feel the big noise and the vibration come into my room.  Every night I go to bed un-rested due to the noise issue.  The noise and the vibration from the condenser have bothered me so tremendously that I couldn't even sleep.  Frequently, I have to move myself to sleep in the living room for a quiet night sleep.
I have been trying to save money by install wooden fence and replaced new windows, but the noise is still able to find its way to come through somehow.  It has been going on like this for years since I bought this house.  I have this severe headache and dizziness everyday due to lack of sleep.
I happened to talk to a co-worker of mine who has a better understanding knowledge about our matter.  He suggested we find the Acoustiblok All Weather Sound Panels which he read about in a power engineering magazine. We found them and went with the panels even though they were expensive because they block and absorb sound. Very industrial quality. That very weekend, my husband and I installed them by ourselves.  After having all 6 panels installed against the wooden fence, I was completely thrilled with the results. I couldn't be any happier.  I just can't imagine how wonderful this works; it works like a charm.  Amazingly, the noise and vibration from the old condenser unit have disappeared.  I can't say enough about this wonderful product.  For those of you who have been experienced heat pump noise from neighbor, you should definitely shop nowhere else but using Acoustiblok sound panels.  The panels stand tall and elegant as private fence that could raise thousands in value of your house as well. All aluminum, never rust was also important to us.
Last but not least, the panels were not only a  solution to cut out the terrible noise and vibration, but more importantly, it has improved my well-being.  I can't thank enough to my colleague's suggestion. If you have to think twice about it, put your health first.  Think about what the noise could do to you and think about your health over the costs.  All I can say is hats off and truly Amazing!!!"
Mrs. Trane, Florida