Honeywell Residential Generator Enclosure
QuietFiber® Residential Generator Noise Enclosure Project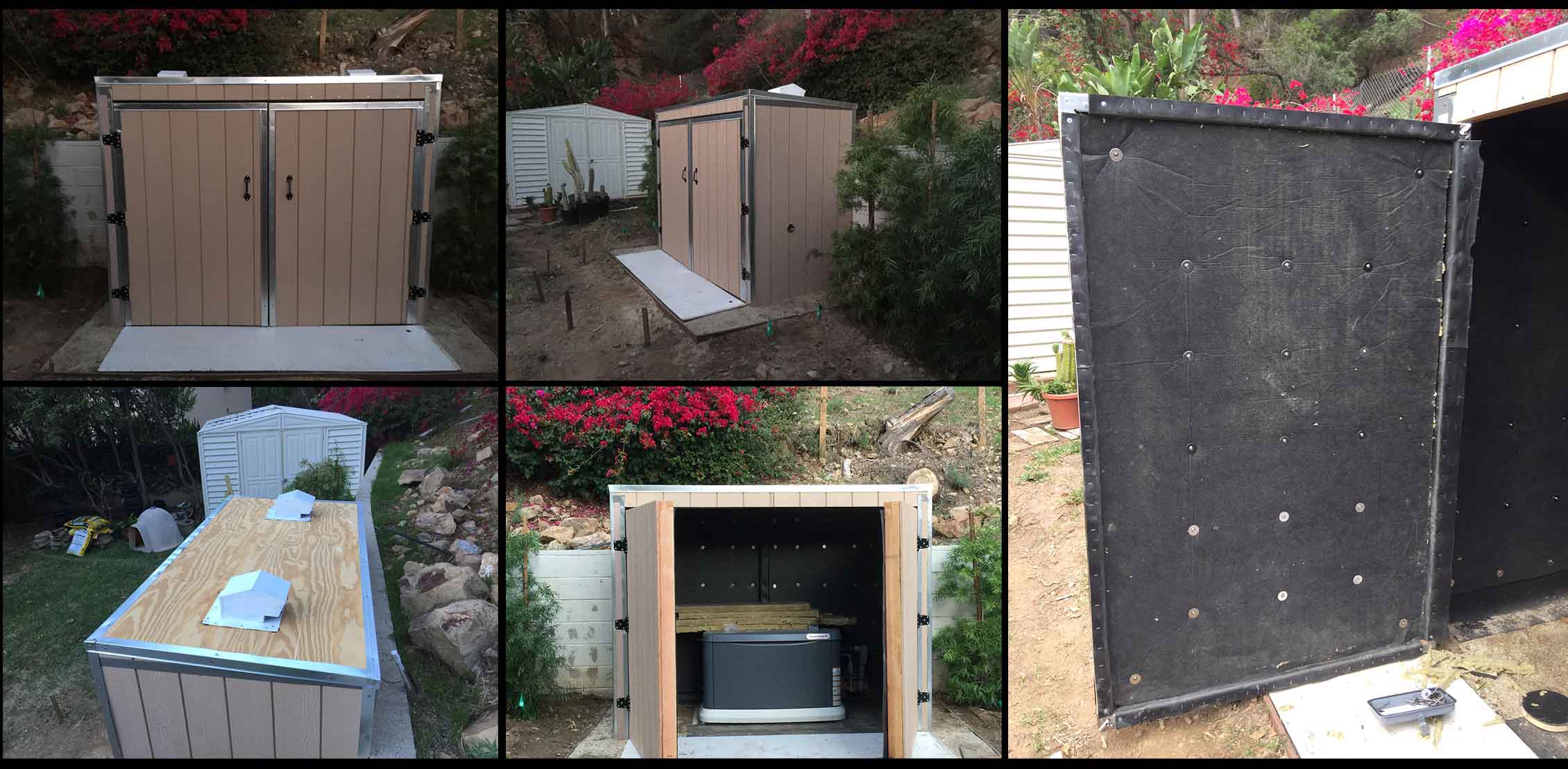 Honeywell Residential Generator Enclosure – "I have pretty much finished building my generator enclosure.  Still have to paint and put reflective/sound attenuating coating on the roof.  I will send you a more complete set of build photos in a few days, but here are some samples.  Will also forward a couple of videos of the actual sound and db readings.
My initial tests showed the generator at about 75 db when it was completely unshielded.  Now pretty much complete it is down to about 55db, approximately a 75% reduction in noise level.  With the doors open, it is at about 69 db.  Very happy with it."
About the enclosure:
Housing is 4' x 8' x 6'2" sloping down to 6' in the rear.  I was originally going to leave the top open, but I decide that since I was to all of the trouble I might was well cap it off, which I did with two topside exhaust vents.  Each of those doors weigh over 100#.  All 4 sides and ceilings are layered with plywood, Acoustiblok and QuietFiber.  Opening above the doors and on the sides are covered over on the inside with Acoustiblok material to minimize sound leaks.  Ground is compacted sand, covered over with Acoustiblok with drain holes drilled in it.  Roof is to be painted with Roof-Tec elastomeric roof coating and has two 6" vent caps.  Roof-Tec has some additional sound attenuation properties in addition to reducing heat buildup on the roof.  Generator was remounted on top of a 3/4" rubber anti-vibration pad.  The small porthole on the side allows me to see the generator status LED without having to open the enclosure.
When complete, the enclosure will be hidden behind tall Japanese Yew plants like the ones to the side of the stature, which when fully grown will provide some additional sound attenuation.
Regards – Jim