AWSP Vacuum Pump Noise Enclosures
All Weather Sound Panel Noise Reduction Enclosure Project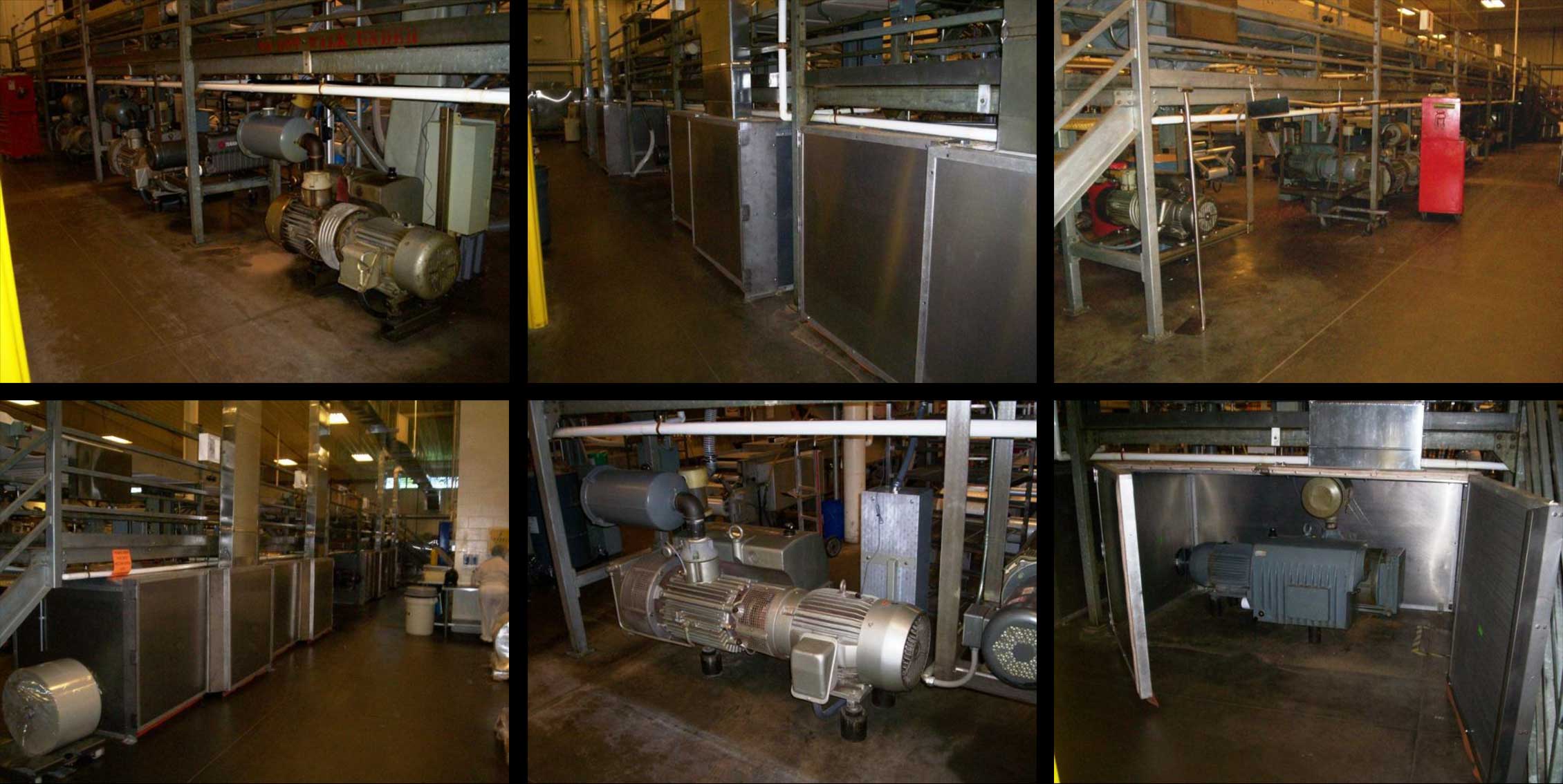 Vacuum Pump Noise Enclosures – A Green Bay pizza crust manufacturer installed Acoustiblok® All Weather Sound Panels® around four industrial vacuum pumps measuring five- to 10-decibels above OSHA's minimum standard of 85 decibels, reducing noise levels by as much as 75-percent and bringing the decibel level well below OSHA demands. Alive and Kickin' Plant Engineer Dennis Dolski said the original intention was to find a product that would reduce the high noise levels that were making working conditions unbearable for employees who worked within 10- to 30-feet of the plant's 90- to 95-decibel vacuum pumps, which operate 24 hours per day, six days per week.
"The driving force was the protection of our employees, and we became cognizant of OSHA standards for noise in the workplace," Dolski said. "But we were also dealing with an extremely high heat issue, so we needed a sound deadening product that would also allow us to address ventilation needs, and the All Weather Sound Panels suited the project perfectly."
Dolski said that they used Acoustiblok's four- by four-foot and four- by eight panels to create enclosures around each vacuum pump, allowing fans to be installed in the bottom of each unit for ventilation.
"We tried a few different noise abatement measures, but everything we came across was costly for the company and a pain for the employees," he said. "They were thrilled after the panels went in and they no longer had to wear ear plugs, everybody's thrilled with the results of the panels."
Port City Bakery, Inc., parent company of Alive and Kickin' Pizza, hired Loss Control Consultant Dan Dudly of West Bend Mutual Insurance Company to conduct sound level meter testing of the vacuum pumps after the Acoustiblok All Weather Sound Panels were installed, with calculations done in accordance to OSHA guidelines.
According to Dudly's report, measurements were made utilizing procedures outlined by the American Industrial Hygiene Association (AIHA). Readings were taken on the A-scale, slow response network defined by ANSI S1.4 for Type II sound level meters. Noise level measurements were obtained using a Quest Electronics Micro-15 / set in the integrating sound level measurement mode. The meter was calibrated both prior to and following use, with a Quest Electronics QC-10 calibrator. The integration time was set at one second.
"The most significant reduction in noise occurred when you enclosed the four vacuum pumps," Dudly said. "(Alive and Kickin' Pizza) reduced the noise levels under OSHA's Action Level of 85 decibels."
In fact, the noise levels were reduced to a measurement of between 70- and 79- decibels (representing a 75-percent reduction in sound to the human ear) Dolski said, depending on the amount of ambient noise coming from other parts of the plant.
"By taking matters into their own hands and hiring a loss control expert to help them get their plant's noise levels well below OSHA standards, Alive and Kickin' Pizza and its parent company, Port City Bakery, are a model of excellence and responsibility when it comes to employee safety and health standards in the workplace," said Lahnie Johnson, founder and president of Acoustiblok, Inc.
"Workplace noise, particularly in industrial settings, has been proven to cause serious health and hearing problems to employees. Our All Weather Sound Panels provide an excellent noise barrier in industrial settings like this manufacturing plant, and were built to withstand tough conditions that are part and parcel in this type of environment."