20KW Residential Generator Enclosure
Acoustiblok & QuietFiber Generator Enclosure Project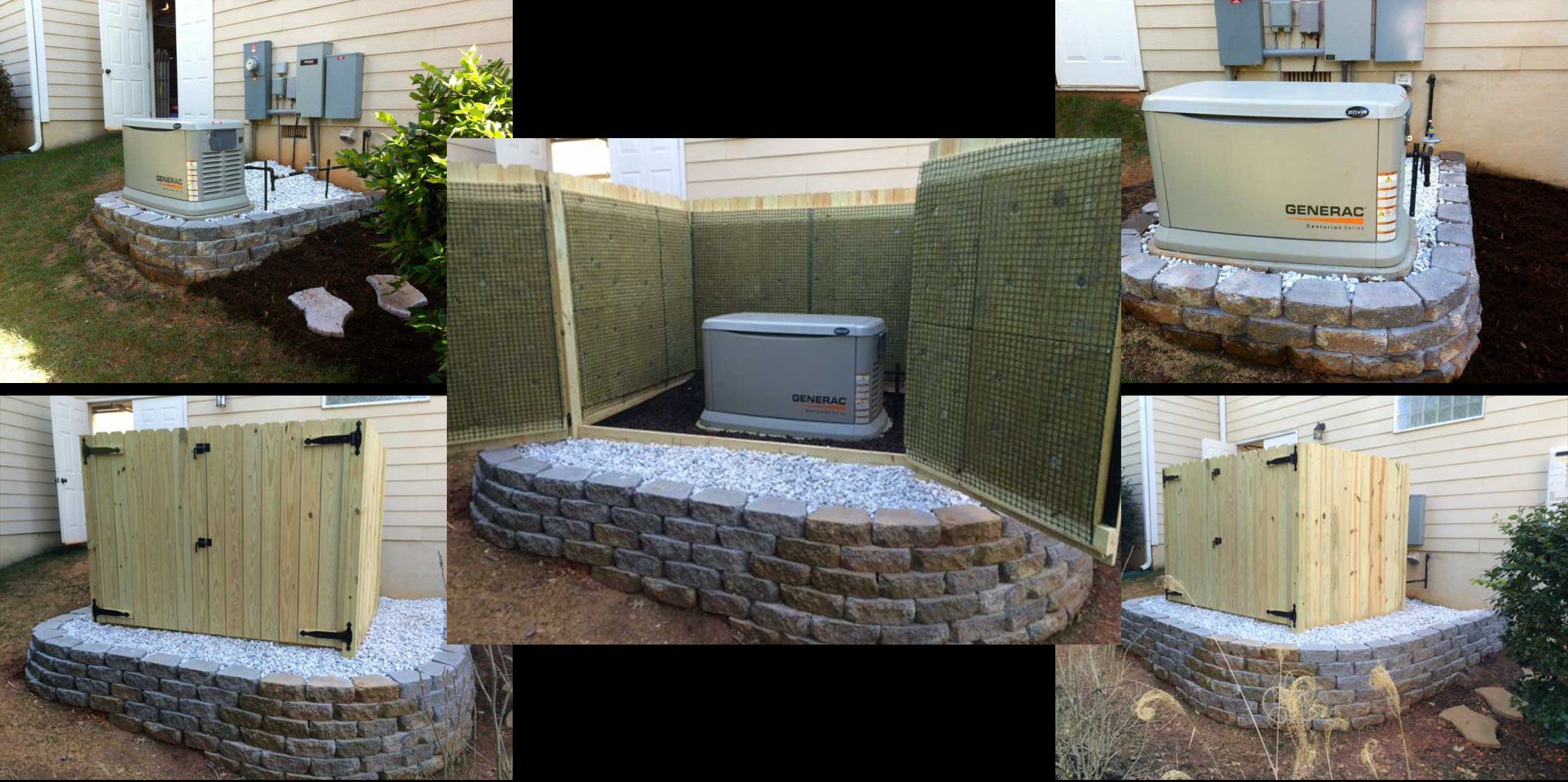 20KW Residential Generator Enclosure – Maryland resident John Rachlin spent one weekend in July building and installing a noise deadening barrier around his home emergency generator unit using Acoustiblok sound reduction materials; a DIY project intended to bring the generator's noise levels down to local compliance levels, while sparing his neighbors from the unit's high decibel screech when in use.
Rachlin, an investment banker and self-proclaimed "slightly handy" do-it-yourself person, purchased the emergency generator to ensure power during Montgomery County's notorious power outages that can last anywhere from a few hours to a few days.
After moving into his newly built house in a densely populated subdivision, Rachlin decided that installing the generator was a necessity, but the noise levels from the brand new unit were registering much higher than the manufacturer's estimate.
Using a decibel reader, Rachlin measured normal levels, without the generator on, at 50-decibels (which included ambient noise from neighbors' HVAC units and other normal background sounds), and between 78- and 80-decibels with the generator running.
"I decided to do something about soundproofing the unit before the neighbors had a chance to complain," Rachlin said. "I wanted to create a low-sound environment for my neighbors and my family.
"I also was concerned that the generator was exceeding Montgomery County's fairly strict noise ordinances."
Rachlin began by building the 20KW residential generator enclosure using pressure treated lumber that matched his property's perimeter fence to maintain the nicely appointed atmosphere of his yard and patio area. Once built, he lined the enclosure first with (1/8-inch) Acoustiblok noise deadening material, and topped it with QuietFiber noise absorbing material. Rachlin said he had researched soundproofing options extensively before singling out Acoustiblok over three other similar companies. (Acoustiblok's website lists actual independent lab test results on its noise abatement products.)
With installation guidance provided one of the sound consultants at Acoustiblok, Inc., Rachlin was able to attach the Acoustiblok to the wood surface using small screws with ½-inch washers to, which provided the sound blocking measure he needed. He followed up by attaching QuietFiber on top of the Acoustiblok to add a level of noise absorption to the project.
"It took three days and many gallons of water to keep me hydrated, because we've had record heat levels up here this summer," Rachlin said. "But I was able to complete the entire project myself in one weekend, which made my wife very happy."
Rachlin measured the results of the enclosure after the soundproofing application was complete, and said the result was a noise reduction of more than 10-decibels, which translated to more than 50-percent reduction in perceived sound. Rachlin attached QuietFiber to the inside of the generator's top lid and front panel, resulting in an additional four- to five-decibel reduction.
"Montgomery County has an infrastructure that dates back to the 1930's and is all above ground," Rachlin said. "We are extremely susceptible to power outages, and have lost one too many freezers filled with meat, and spent more than enough hot Maryland summer days with no air conditioning when the power went out.
"When we built this house, we knew that we had to have a generator in place. The final step was making it quiet enough to be good neighbors, keep the noise ordinance officials happy, and enjoy having power when we need it."
"Generator noise is a growing problem everywhere, especially in residential neighborhoods, where multiple units can be running at once after a storm or power outage," said Lahnie Johnson, founder and president of Acoustiblok, Inc. "This is the type of noise that contributes to noise pollution and the health risks that go along with it. People are becoming more proactive about creating a quiet environment, especially at home.
"Mr. Rachlin's project represents just one of the ingenious ways ordinary homeowners can take on a soundproofing project themselves and make it into a satisfying DIY weekend project. We are proud of our innovative noise deadening products that people can work with to achieve soundproofing at home without the need to hire contractors or installation experts."