Acoustiblok Quiets Paint Hall Studio
Acoustiblok® Movie Studio Noise Reduction Project
Belfast's Paint Hall Studio, Europe's largest film studio that is located in the historically renowned Titanic Quarter of the city, needed to dramatically reduce outside noise pollution from entering its massive sets in time for its biggest film production to date. While the Studio's double skinned cell construction combats general noise pollution on set, the buildings massive 75ft doors were found to be leaking sound.
Before it was a film studio, Paint Hall was part of Belfast's historic Harland & Wolff Shipyards, where the Titanic and other ships were built. Ship Hall was used for painting huge portions of ships in climate-controlled conditions and these doors were the means of ingress and egress for the giant ships. The pressure was on to find a solution to the ambient noise infiltrating the massive (1,094,755 cubic feet) structure from nearby construction, heavy main road traffic and overhead aircraft. These problems needed to be corrected before filming could start on a new project, a joint Universal Pictures/Northern Ireland production starring Natalie Portman, and the result had to be effective enough to satisfy the sensitive microphones used in film-making, which easily pick up background sound.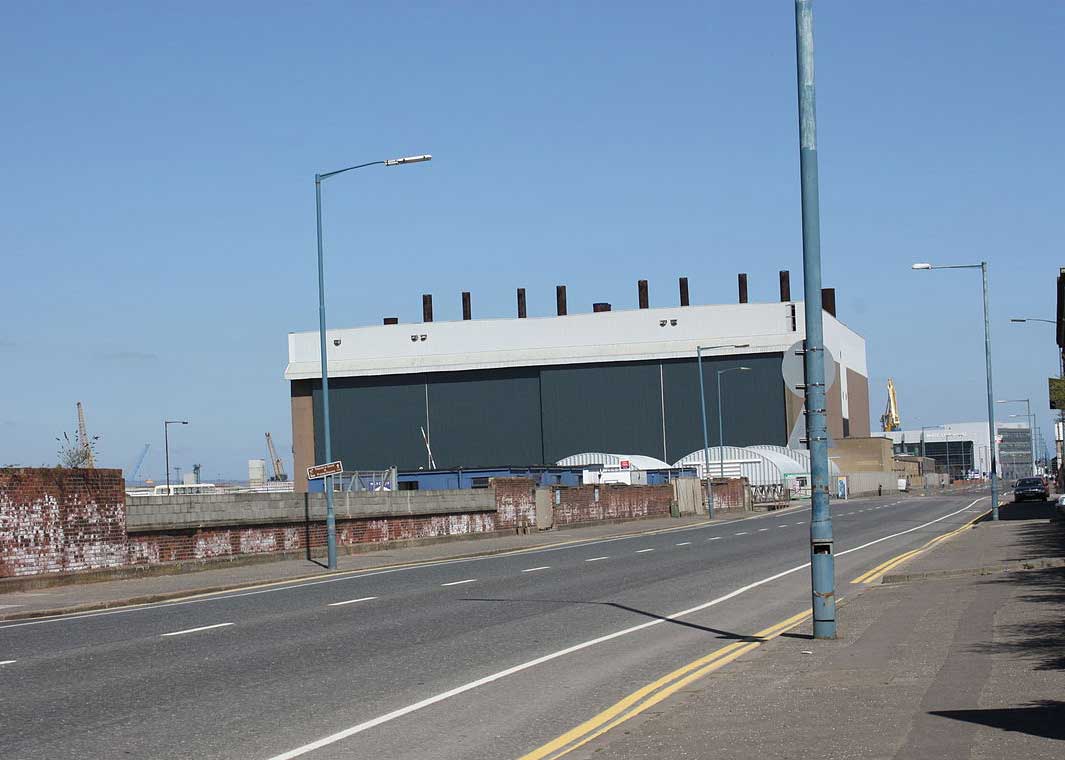 Acoustiblok Quiets Paint Hall Studio
Acoustiblok Quiets Paint Hall Studio – Consultants from Acoustiblok UK Ltd conducted a site visit and compiled a comprehensive report identifying the building's acoustical weaknesses and vulnerabilities, then devised a workable solution to meet the producer's schedule. They advised lining the building's eight colossal doors, (large enough to have once accommodated ships) with Acoustiblok, a superior sound isolation material with an average noise reduction of 26 decibels (dB). Acoustiblok, which has also been installed at both Pinewood and Leavesden studios in the UK, was installed by the filmmakers under the close supervision of the Acoustiblok team. Vast cavities within each door were first filled with an open cell fibre. Acoustiblok membrane was then attached to steel supports within the doors and secured with resilient channels. The steel structure was also treated with Thermablok aerogel insulation material to increase acoustical dampening and to address transmission loss properties. New corrugated facing panels were installed as an external finish.
Brian Martin, a technician with Muldiss Darton Production of the UK, said that producers were hard pressed to find a working solution to the noise problem that could be in place before scheduled filming began.
"This new project represents the biggest film yet for the Paint Hall Studios and we needed the best possible sound abatement material installed in a very short period of time," Martin said. "it's crucial that we have perfect sound conditions for filming and recording, as the microphones used are highly sensitive and can pick up every single sound in the background.
"Acoustiblok responded quickly to our deadlines and their sound isolation material worked exceptionally well, especially considering the large scale of this facility."
Ultimately, the installation of Acoustiblok to the Paint Hall studios has made it an extremely desirable venue for attracting future big budget films.
Paint Hall is not the first major film studio to install Acoustiblok for perfect sound quality. The UK's Pinewood and Leavesden studios are also treated with Acoustiblok, setting the stage for some major blockbusters including the Harry Potter, Star Wars and James Bond movies.