NAHB International Builders Show
Acoustiblok® Exhibits Noise Reduction Products
LAS VEGAS, Nev. – Tampa based Acoustiblok Inc. exhibited the company's line of certified and lab tested acoustical soundproofing  products for single and multi-family residential applications in booth number 1049 at the NAHB International Builders Show being held at the Las Vegas Convention Center from January 22 – 24.
Acoustiblok's new and more interactive trade show booth (shown below before the opening of the exhibit hall) caught the eye of many conference attendees and IBS show judges. Acoustiblok was one of hundreds of companies that participated in the show and exhibited their products on the 400,000 square-foot exhibition hall floor.
Acoustiblok® is an easily installed material that can not only reduce noise from within a house but also reduce outside noise. Acoustiblok can be installed:
• on studs before attaching drywall to reduce noise between rooms
• over floor joists before the sub floor is attached to reduce the sound from walking (impact noise) as well as the noise created in the room
• on roof trusses to reduce noise from low flying airplanes or busy highways
• around plumbing pipes to quiet the sound of running water.
Acoustiblok can also be used in home theaters and multi-functional A/V type entertainment rooms.
In multi-family units such as condominiums and apartment complexes, a leading cause of tenant relocation is noise.  The problem of sound attenuation in these types of buildings is rarely addressed properly.  By installing Acoustiblok® over the studs, ceiling and floor joists, sound can be effectively stopped before it vibrates the structure. Acoustiblok® is a flexible, dense material that reduces sound by 26db. A 32 oz. product (STC 32) is also available for challenging noise problems.
The International Builders' Show is organized by the National Association of Home Builders (NAHB) and is the largest light construction building industry trade show in the United States. It is the only event of its kind, focusing specifically on the needs, concerns, and opportunities that face builders. The National Association of Home Builders (NAHB) is one of the largest trade associations in the United States. Headquartered in Washington, D.C., NAHB's mission is "to enhance the climate for housing and the building industry. Chief among NAHB's goals is providing and expanding opportunities for all consumers to have safe, decent and affordable housing."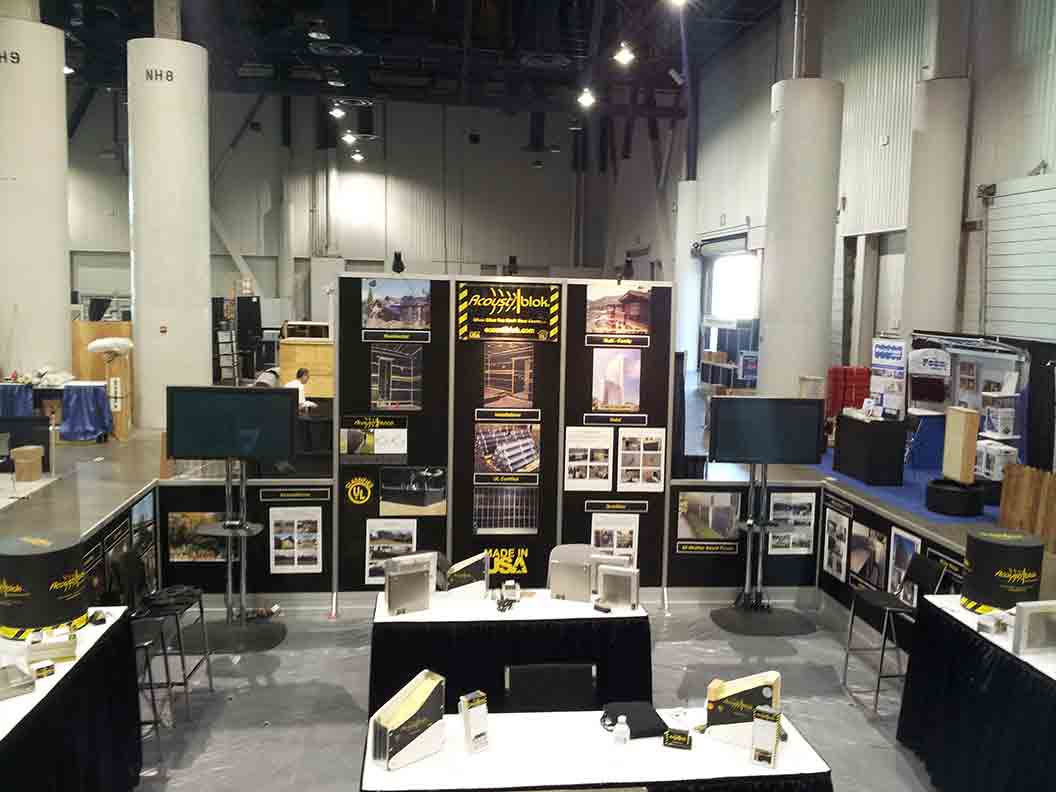 NAHB International Builders Show

Founded in 1942, NAHB is a federation of more than 800 state and local associations. About one-third of NAHB's more than 140,000 members are home builders or remodelers. The remaining members are associates working in closely related fields within the housing industry such as mortgage finance and building products and services.For more information on the IBS show visit: //www.buildersshow.com/Home/
Information about the show for the media is available at: http://www.buildersshow.com/Home/Page.aspx?genericContentID=106662
About Acoustiblok – "Quieting the World"
Acoustiblok Corporation, a NASA "Spin-off" company headquartered in Tampa, FL, provides acoustical soundproofing solutions for noise related issues. The company develops, manufactures, and markets lab tested and certified acoustical products around the world, earning the industry's highest ratings from architects, builders, and consumers.
Primary products include Acoustiblok® viscoelastic polymer based soundproofing material, Acoustifence® outdoor noise barrier, All Weather Sound Panels®, QuietFiber® insulating material, Quiet-Cloud® industrial sound absorption panels, Acoustiblok WALLCOVER®, and Thermablok® nanotechnology insulation. The company also sells a line of acoustical soundproofing accessory products. Acoustiblok products are used every day primarily in industrial, residential, commercial, building and construction/architectural, and marine sectors worldwide. The company's products are made and sourced in the United States.
Acoustiblok Corporation ships products to approximately 60 countries around the world and has a network of stocking distributors both in the United States and internationally. The company operates a wholly owned subsidiary, Acoustiblok Mideast, in Saudi Arabia to augment our distributor network.