Classic Movie Poster-Inspired Artwork
QuietFiber® Wrapped in Movie Poster Artwork for Home Theater
ASPEN, Colorado, May 9 –Decorative artist Bryan Melillo and his partner  Bruce Czopek of  Interior Art Design – MelilloCzopek Artisans, have created classic movie poster-inspired artwork in an upscale Lake Tahoe residential home theater with QuietFiber®, a noise absorbing material from Tampa, Florida-based Acoustiblok, Inc. used to absorb reverberant noise in acoustically sensitive spaces, such as this state-of-the-art home theater.
When Lake Tahoe Architect and Designer Craig Bonds designed the home theater in the private residence, he framed and hung the 4 foot x 4 foot pieces of QuietFiber to provide the acoustic treatment desired within the space, while maintaining its minimalist design. Once hung, however, Bonds was less than thrilled with the bland result, which resembled "framed white paper,"
Bonds called in Melillo and Czopek, and asked the artists to create some space-appropriate artwork with the already-framed acoustical material, and what they came up with surprised everyone: four vivid movie poster-style pieces that add color and texture to the space and reflect a bit of the homeowner's taste in films, sketched and painted directly onto the QuietFiber – no canvass necessary.
"We wanted to be careful not to interfere with the acoustical properties of the QuietFiber, so we just used charcoal pencils, colored pencils and small amounts of acrylic paint to get the authentic movie poster look we were after," Melillo said.
The artists also used tiny amounts of water with the colored pencils to create a bit of a water color effect in some places, with spot-on results.
"Bruce and I have never worked on a project like this before, so we approached it cautiously using mostly water-based mediums on the QuietFiber. It worked beautifully, and we are excited about the thought of doing more of these for home theater spaces in the future."
QuietFiber, which can be hung on any wall or hidden underneath curtains, tapestries, on top of shelves or tabletops to provide noise absorption in spaces susceptible to reverberant noise has. QuietFiber has been used decoratively in clubs, restaurants, private residences and other spaces in need of a sound abatement solution that worked with the space's existing décor. By cutting the QuietFiber to the appropriate wall size and then covering it with fabric to coordinate with the space's existing décor, QuietFiber instantly doubles as a sound deadening treatment and wall art.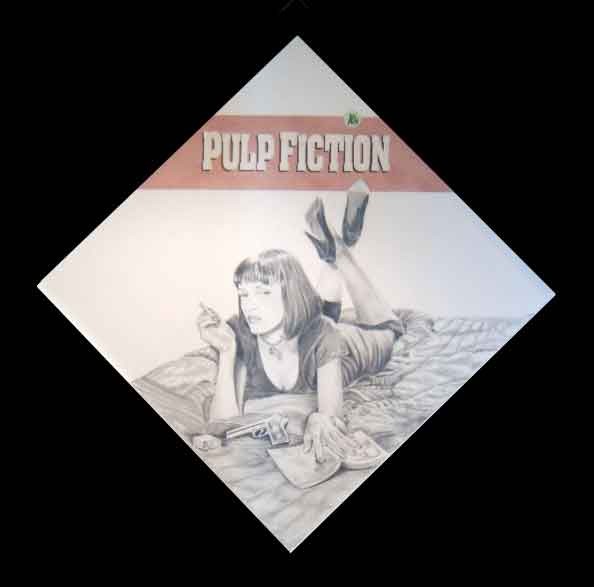 Classic Movie Poster-Inspired Artwork

The four completed QuietFiber art pieces include scenes from the movies "Pulp Fiction," "The Guns of Navarone," "The Last of the Mohicans" and "Cheech and Chong's Up in Smoke," at the request of the homeowner."We can create these QueitFiber art pieces for any movie the client would like," Melillo said. "I think these are a great alternative to boring sound panels.
"Who wouldn't rather have authentic-looking movie posters in fine art form doubling as acoustic panels in their space?"
Acoustiblok Founder and President Lahnie Johnson says the QuietFiber-as-art concept is one he has been working to make available since launching QuietFiber in 2011.
"We launched our QuietFiber material with this type of application in mind," Johnson said. "When you're addressing solid surface noise issues in well-appointed residences or businesses like this magnificent Lake Tahoe residence, you can't hang ordinary sound abatement products because, although they serve a functional purpose, they aren't necessarily going to look good in the space.
"QuietFiber is the only sound damping product on the market that can be directly painted or airbrushed on to create a complementary design element in any space. You have the sound abatement properties you need, in a product that can be completely disguised as an artistic element within the space."
High sound absorbency QuietFiber is a two-inch thick interior/exterior noise solution that can also be cut to fit and simply hot glued underneath a bar, cabinets, countertops, tables, chairs, behind a wall tapestry or curtains. Slide a QuietFiber "pillow" on top of cabinets, or anywhere else that reverberant noise and echo is a problem.  Easily cut to size with a serrated knife, QuietFiber can be concealed almost anywhere.
Used industrially for reducing noise, QuietFiber material designed to absorb the maximum amount of sound (NRC 1.00). Fireproof, totally hydrophobic (will not absorb water or moisture), washable, non-deteriorating, mold and mildew-proof, Acoustiblok offers a lifetime warranty on this product.
QuietFiber® is used extensively for industrial noise reduction in large diesel generator rooms. It is also the answer to any space in need of a quick noise fix. QuietFiber is easy to install anywhere noise is a problem, without spending thousands of dollars to retrofit sound abatement material under drywall, or cover walls with expensive sound panels.
QuietFiber is UL fire rated for floor, wall and ceiling applications, 100 percent recyclable and 100-percent made in the USA.