Power Outages and Generator Noise in Tornado Alley
Residential standby generators
may not keep you safe or be important during a tornado, but when electrical power stations and electrical lines are knocked out and hundreds of thousands of homes experience power outages, standby generators do make this difficult time more tolerable for as the system is repaired. Standby generators do not run all the time, but when they do run, most are typically loud and emit sound levels ranging from 65 – 100 plus decibels, which often times annoy neighbors who don't have generators and exceed most community noise ordinances.
Being without electrical power after a storm causes increased anxiety to those affected. Living near neighbors that operate loud standby generators without soundproofing will cause increased anxiety and tension during an already difficult situation.  A generator enclosure is the generator's first line of defense against the elements. It's important to not only keep it in good condition, but also important to have proper soundproofing materials built into your enclosure to absorb the noise and keep it to a tolerable level. Keeping your neighbors up with loud generator noise during power outages may make a normally nice neighbor not so pleasant.
USA – Tornado Alley of the World
According to Live Science.com, in terms of absolute tornado counts, the United States leads the list globally, with an average of more than 1,000 tornadoes recorded each year. A distant second is Canada, with around 100 per year. Eighty percent of tornadoes are EF0 and EF1 (T0 through T3) tornadoes. The rate of occurrence drops off quickly with increasing strength—less than 1 percent are violent tornadoes (EF4, T8 or stronger).Outside Tornado Alley, and North America in general, violent tornadoes are extremely rare.
Mother Nature Network.com website says that in the United States, tornado season tends to move northward from late winter to mid-summer. In Southern states, tornado season is typically from March to May. In the Southern Plains, it lasts from May to early June. On the Gulf Coast, tornadoes occur most often during the spring. And in the Northern Plains, Northern states and upper Midwest, peak season is in June or July.
The two regions with a disproportionately higher incidence of tornadoes are Florida and an area in the Midwest known as Tornado Alley, a large strip of land going north to south that covers the northern region of Texas, Oklahoma, Kansas, Nebraska, Iowa, the eastern edge of Colorado, southwest tip of South Dakota and the southern edge of Minnesota.
Florida's high tornado frequency is the direct result of their daily thunderstorms coming from the ocean and the Gulf of Mexico, as well as the many tropical storms and hurricanes that affect the Florida peninsula.
In the Gulf Coast region, Dixie Alley refers to West Tennessee, West Kentucky, North Mississippi and North Alabama. These states experience a significantly later tornado season that occurs in the late fall from October through December.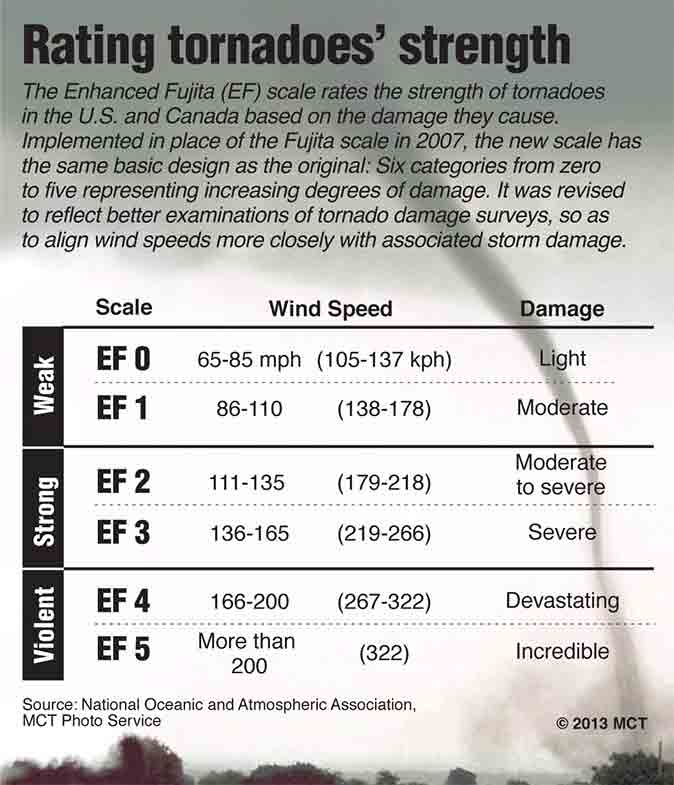 Power Outages

Worst Tornado Outbreak Ever Recorded
The April 25–28, 2011 tornado outbreak was the largest tornado outbreak ever recorded. The outbreak affected the Southern, Midwestern, and Northeastern United States, leaving catastrophic destruction in its wake, especially across the state of Alabama. It produced destructive tornadoes in Alabama, Arkansas, Georgia, Mississippi, Tennessee, and Virginia, and affected many other areas throughout the Southern and Eastern United States. In total, 358 tornadoes were confirmed by the National Weather Service in 21 states from Texas to New York and in southern Canada. Widespread and destructive tornadoes occurred on each day of the outbreak, with April 27 being the most active day with a record of 205 tornadoes touching down that day. Four of the tornadoes were destructive enough to be rated EF5 on the Enhanced Fujita scale, which is the highest ranking possible; typically these tornadoes are only recorded about once each year or less. In total, 348 people were killed as a result of the outbreak.
Power Outages Are Common With Tornadoes
Many severe tornadoes bring destruction to property and to electrical systems in large cities and small communities.  Despite the U.S. tornado warning program, which began in 1957, death tolls – even with a growing population – have steadily decreased. Even with today's technology, there's still no way to control where these violent and destructive tornadoes go and what they will hit.
Media reports estimated that during the Alabama tornado outbreak on April 27 an estunated 262,000 electric "customers" (individual homes and businesses) were without electrical power. The electric utility industry assumes 3-4 people per customer which translates to approximately 786,000 to 1.4 million people being temporarily without electricity temporarily for a prolonged period of time. It can take anywhere from a few days to as many as 10 days or longer sometimes, depending on the situation and the damage.
Standby Generators: Remember the Soundproofing
All we can do to combat severe storms is to be prepared before they strike. These storms can develop quickly. Electrical power outages in general are happening more and more frequently not only in the United States but across the world. Having a standby generator system in place can make power outages much less burdensome.
Today's modern digital economy runs on a clean, abundant, and reliable source of power. Issues related to quality and reliable supply of power is driving up demand for backup residential and commercial generators worldwide. Having a standby generator with an enclosure that is properly soundproofed provides a win-win situation for you and your neighbors.
Power outages trigger standby generator systems to automatically switch to generator power until local power is restored. Your backup power system, which typically runs on your home's existing natural gas line or by diesel fuel, will start and switch power to your home within 10-20 seconds. In most cases, having a generator installed not only will pay for itself, but it will increase the value of your home by several thousand dollars. The excessive noise pollution caused by standby generators is usually an issue that is learned the hard way by generator owners.
So when you purchase your home standby generator, it's important not to forget about the controlling the noise it will make while running. Soundproofing your enclosure will give you the peace of mind that your neighbors won't be calling the authorities complaining about excessive noise coming from your generator at night. These complaints can lead to expensive fines and citations for violating noise ordinances.