The Negative Effects of Jet Engine Noise on Health & Quality of Life
High Decibel Sound Jets – Jet noise can be a serious long-term health concern if you are exposed to continuous high levels of it. If you live close to an airport or live directly under the path of high decibel sound jets, it's important to take steps to reduce the noise entering your home, office, or church.
Airports work closely with the Federal Aviation Administration (FAA), the airlines and the local communities to monitor existing noise programs and develop new ways of reducing airport and aircraft noise. They generally focus on two areas: sound insulation programs and noise abatement programs. A homeowner must qualify for these programs in order to receive soundproofing support.
Many large airports have sound insulation programs are designed to reduce airport noise that people hear in their homes and in the classroom.
Soundproofing materials are available to help people living near airports who are exposed to certain levels of jet engine noise. Lining your walls, ceilings and floors with sound absorbing material such as Acoustiblok, can lessen the jet engine noise entering your structure.
Germany's Federal Environment Agency Study Shows Airport Noise Increases Risk of Strokes
The following contains excerpts from an article written by Tristana Moore on Dec. 15, 2009 that was posted on a Time website pertaining to a Climate Change Conference.
According to the unpublished study, commissioned by Germany's Federal Environment Agency, living under a flight path can seriously damage your health. German researchers have discovered that people who are exposed to jet noise have a substantially increased risk of stroke, high blood pressure and heart disease. The findings are bound to provide further ammunition to anti-airport campaigners and make uncomfortable reading for world leaders at this week's climate summit in Copenhagen.
The study shows that men who are exposed to jet noise have a 69% higher risk of being hospitalized for cardiovascular disease. Women living under flight paths fare even worse, logging a 93% higher rate of hospitalization with cardiovascular problems, compared with their counterparts in quiet residential areas. The study found that women who are exposed to jet noise (of about 60 decibels) during the day are 172% more likely to suffer a stroke.
The report is based on the analysis of data from public health insurers that were drawn from more than 1 million Germans ages 40 and over who live near Cologne-Bonn Airport in western Germany. "These figures are worrying. It's quite clear that living near an airport is very dangerous for your health," says Eberhard Greiser, an emeritus professor of epidemiology at Bremen University. "Jet noise is more dangerous than any other kind of road-traffic noise or rail noise because it is especially acute and sharp and it induces stress hormones."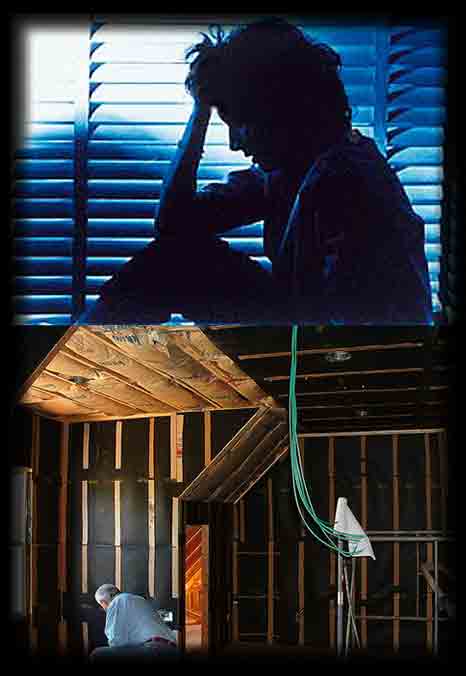 Airport Noise Increases Risk of Stroke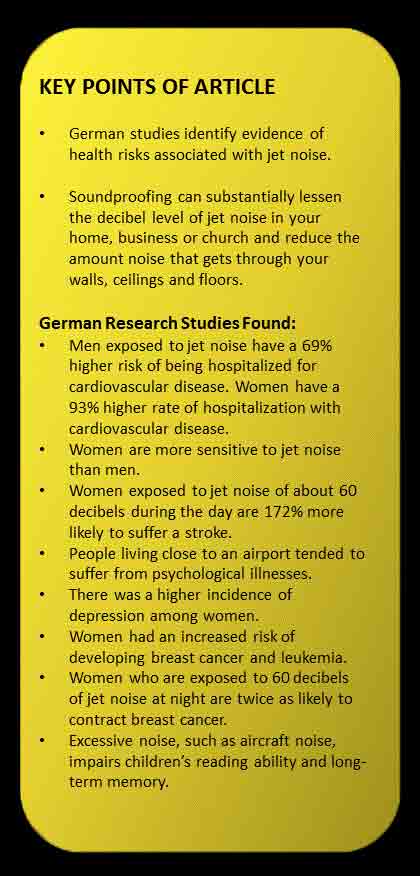 High Decibel Sound Jets
People living close to Cologne-Bonn Airport also tended to suffer from psychological illnesses. "There was a higher incidence of depression among women who live near the airport," says Jens Ortscheid of the Federal Environment Agency. "This report should come as a warning signal to all governments and authorities that are planning to expand airports — there are serious health effects which need to be considered." Ortscheid says the report is in line with previous studies on the health effects of jet noise.
In a separate study commissioned by the local Bonn authorities, Greiser discovered that women near Cologne-Bonn Airport had an increased risk of developing breast cancer and leukemia. His research found that women who are exposed to 60 decibels of jet noise at night are twice as likely to contract breast cancer. "It seems women are more sensitive to jet noise than men, but I would advise everyone to think twice about living near an airport because it's not just aircraft noise which can be deadly; aircraft emissions are also dangerous," says Greiser.Greiser is convinced his report provides unequivocal evidence of the health risks associated with jet noise. "When it comes to expanding airports, governments and the courts all over the world will have to weigh the benefits of commercial interests against the danger to public health," he says. "How many additional diseases is society prepared to accept?"
Another Study of German Children Living Near Airports Shows Jet Aircraft Noise Impairs Long-Term Memory And Reading Ability
In a story on ScienceDaily.com, excessive noise, such as jet aircraft flying overhead, impairs children's reading ability and long-term memory, a Cornell University environmental psychologist and his European colleagues conclude in a study of schoolchildren living near airports. "This is the first long-term study of the same children before and after airports near them opened and closed. It nails down that it is almost certain that noise is causing the differences in children's ability to learn to read," says Gary Evans, an international expert on environmental stress, such as noise, crowding and air pollution. The good news, says Evans, is that some of the reading and memory problems caused by jet noise is reversible in a quieter environment.
The study was supported, in part, by the Society for the Psychological Study of Social Issues, the National Institute of Child Health and Human Development, the Nordic Scientific Group for Noise Effects, the Swedish Environmental Protection Agency, the German Research Foundation and the National Swedish Institute for Building Research. Other authors are Staffan Hygge of the Royal Institute of Technology, Gävle, Sweden, and Monika Bullinger of the University of Hamburg, Germany.
The researchers analyzed data on 326 children (average age, 10) living near two sites in Munich: near the old airport, which was scheduled to close, and near the new airport site. The children were assessed three times: six months before the old airport closed and the new one opened, and one year and two years after the airport opening.
"Noise exposure is consistently linked to reading deficits and may interfere with speech perception and long-term memory in primary school children," says Evans. "But it wasn't until we had this unprecedented opportunity to study children near the simultaneous opening and closing of the new and former Munich airports that we could actually find stronger evidence for a causal relation."
Evans, who has been studying the effects of noise for several years, says the latest study is further evidence that exposure to chronic noise can have serious health, learning and motivational effects in children and adults.
The full article can be read at: http://www.sciencedaily.com/releases/2002/10/021008065059.htm