Information on the Effect of Aircraft Noise Pollution
Aircraft Noise Pollution – Residents of Minneapolis and nearby Edina raised their collective voices and lobbied successfully to keep aircraft noise out of their backyards last week, effectively delaying a new FAA flight pattern that would have rerouted some aircraft through their neighborhoods to alleviate plane noise plaguing the community of Richfield.
The lesson here is simple and timeless – the squeaky wheel gets the grease, and residents of both Minneapolis and Edina proved it last week. Their gain is now Richfield's loss.
Similar episodes are playing out across the U.S., illuminating an increasingly common fight that pits community against community over local airport noise. Ultimately, the best organized and often most combative reign victorious, while neighboring communities are left to deal with renewed levels of airport noise pollution. The outcome of these battles can affect everything from residents' health and well-being to real estate values.
First a little geography. Edina is about nine miles southwest of Minneapolis, and Richfield is just under five miles east of Edina. All three deal with aircraft noise from the Minneapolis St. Paul International Airport Lindbergh Terminal. The community of Richfield bears the brunt of incoming and outgoing aircraft noise due to its close proximity to the airport. But Richfield has been lobbying hard to have some flights rerouted, which would have lightened Richfield's noise impact while increasing aircraft noise pollution in Minneapolis and Edina.
Just as word got out that the FAA was poised to approve the new flight plan, Minneapolis and Edina slammed the agency with emails, petitions, and phone calls to defeat the plan that would route more aircraft over their own back yards. All the commotion worked, and the FAA's ruling to delay the flight pattern change left Ritchfield residents back where they started.
As the aircraft noise pollution problem increases from one year to the next, this turn of events illustrates how communities can expect to be pitted against each other to protect their peace and quiet, and how the best organized communities ultimately win the battle.

Aircraft Noise Pollution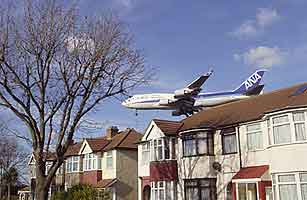 Ironically, the uproar over aircraft noise pollution has gone from spewing choice words of displeasure at the airlines to battling neighboring communities to determine which one least deserves the bulk of the airwave invasion. Edina homeowners were the first to organize, and they did so quite effectively. Local activists took up the cause, using language that was alarming and filled with imagery meant to scare others into agreement.Emails warning of "Toxic Super Highway for Planes planned for Edina," in the subject line threatened other homeowners with proclamations that "This (new flight pattern) will dramatically reduce your quality of life AND significantly reduce your property values," read another.
Homeowners filled a meeting of the Metropolitan Airports Commission (MAC) to review the new flight plan, which uses a system that utilizes satellite technology to reroute planes more precisely over less populated areas. The FAA uses the same system for airports nationwide.
Richfield residents were happy with the new flight pattern system because it would steer air traffic over the city's Crosstown Expressway, where many of the homes already had government-subsidized sound proofing ,and away from neighborhoods in which homes were more vulnerable to noise.  But Edina and Minneapolis activists opposed the new plan because they said that while it would benefit certain homeowners, others would be harmed by it. Now, the rerouting plan is on hold while more studies are conducted, and Richfield residents are back to square one.
Minneapolis homeowners are well known for their anti-airport noise activism, which in 2007 resulted in a settlement that forced the FAA to provide soundproofing material in 5,800 homes that were affected by aircraft noise.  Last summer, we witnessed a similar dilemma when residents of the Hamptons demanded changes be made to alleviate the horrendous levels of noise pollution incurred by neighbors who were utilizing private helicopters to commute to back and forth between homes in the Hamptons and offices in Manhattan.
The helicopter noise was unbearable according to Hamptons residents and visitors alike, who claimed it made windows rattle, woke people from their sleep and heightened anxiety and blood pressure in many of those exposed to the helicopter noise. Residents on Long Island and Manhattan were also subjected to the helicopters' relentless pounding day and night, seven days a week. However, when FAA officials ordered new flight paths and hours to protect Hamptons residents from the clamor, the proposed changed impacted Long Island and Manhattan residents negatively.
Ten years ago, people were still telling themselves that noise pollution was something we need to live with, something that was unavoidable. Today, the opposite is happening as awareness over the dangers of noise pollution to health and well-being has increased, and people are growing more protective over the quality of their environments.