Helicopter Noise Affecting Hampton Summer Retreats
The Hamptons in summertime is, by and large, a playground for the wealthy –  including those who commute from their offices in Manhattan to their Hamptons summer retreats. Residents and vacationers love the idyllic atmosphere of charming beach towns bustling with weekday morning book readings in the local libraries, antique fairs on the weekends, and picturesque beaches often sprinkled with celebrities.
But a group of East Hampton residents is up in arms over a growing problem that is shattering their serenity – a slew of ultra-wealthy homeowners and a growing number of investment bankers and hedge funders traveling to and from the East Hampton airport daily in privately owned helicopters. Noisy helicopters, at all hours of the night and day, and on weekends.
East Hampton residents feeling tormented by the increase in noise pollution caused by the choppers have formed the "Quiet Skies Coalition" in the hopes of setting some ground rules like curfews and other limits on their noisy neighbors who don't seem to care how much ruckus they make in their commutes.
One of the worst offenders is Wall Street hot shot and billionaire Ira Rennert, whose 63-acre Sagaponick estate was the inspiration for the book "The House That Ate the Hamptons." Rennert's 19-seat Sikorsky S-92 "helibus" – one of the world's most powerful civilian helicopters – carries Rennert back and forth daily. Rennert's traumatized neighbors have registered sound levels from the chopper as it flew over their homes as high as 88 decibels, causing their homes to shake.
The World Health Organization warns against exposure to noise levels from air or roadway traffic exceeding 55 decibels.
Rennert's neighbors, and for that matter any Long Island residents under Rennert's flight path are subjected to not only Rennert's chopper noise, but that of a multitude of others that can travel just minutes apart with no regulations in place regarding flight times, frequencies, or flight path.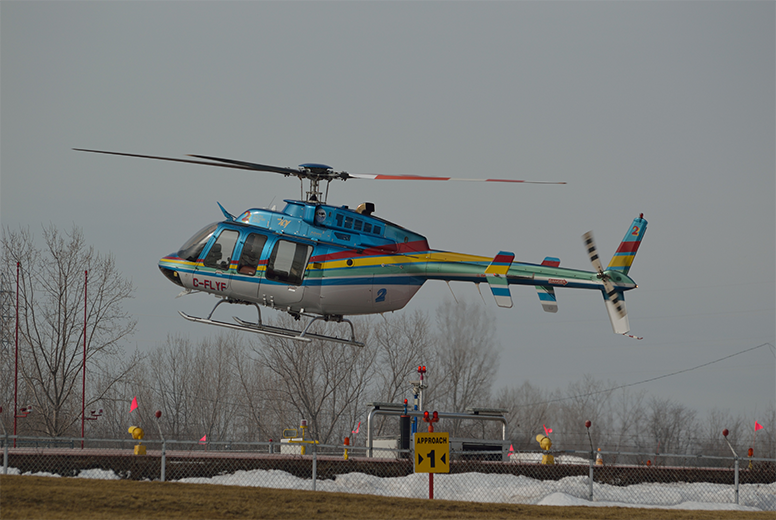 Hamptons Summer Retreats

The problem has increased in recent years as more and more affluent New Yorkers chopper their way to work and back routinely. Senator Chuck Schumer has been calling for new FAA regulations which would force helicopters to fly over waterways instead of land to protect all Long Island residents. But Hamptons residents want more.The Quiet Skies Coalition is calling for the East Hampton airport to be closed on weekends and late nights during the week, and they want helicopters banned completely.
The helicopter businesses are fighting back, of course, by calling federal involvement in the fray "overreach" and calling for helicopter operators to voluntarily quiet the Hamptons air space on their own terms.
Helicopter noise is becoming an increasing problem over all of Long Island. Noise pollution connected to helicopters has been linked to serious health problems including cardiovascular disorders, sleep deprivation, increased anxiety, and impaired learning ability among children according to a study released by the Natural Resources Defense Council on helicopter noise pollution in New York and the Tri-State area.  Helicopter take-offs and landings in the East Hampton Airport have increased 141 percent since 1998, and takeoffs and landings at Westhampton's Gabreski Airport in Westhampton Beach are up 38 percent in the past year alone.
Residents of the Hamptons and Long Island are not the only victims of earsplitting helicopter noise polluting the airspace; communities in California and Virginia are turning to lawmakers to curtail flight times on private and chartered helicopters in an effort to lessen the noise impact of the choppers over their homes. But New York seems to have an unrelenting population of wealthy travelers who won't to let go of this form of transportation  – they simply can't handle the idea of dealing with ground traffic to and from Manhattan.
In May, New York City Mayor Michael Bloomberg was caught breaking a law that forbids weekend landing and take-off at the East 34th Street helipad in Manhattan. The law, more than a decade old, seems to not apply to Mayor Bloomberg, who owns a private helicopter and multiple vacation homes in the Hamptons and elsewhere.  One weekend in May, Bloomberg's helicopter took off and landed illegally eight times in two days, defying the weekend ban in place since 1998. The ban was made into law after years of complaints from New York residents plagued by the noise of the helicopters and concerned about rising noise pollution levels.
The weekend ban is policed by the helipad's operator, which has a contract with the city. Since there are no formal fines or penalties for violations, it's anyone's guess what incentive Mayor Bloomberg or anyone else has to abide by the ban beyond common courtesy.
Residents near the East 34th Street helipad say they don't think Mayor Bloomberg or others who use it realize the impact the noise has on their lives. Dr. Ron Sticco, a physician who lives in a high rise nearby, took the amateur video footage of the Mayor's multiple flights that May weekend out of frustration.
Sticco told a New York Times reporter that sometimes the helicopter noise got so loud, he would have to go into his bathroom to talk on the telephone.
Critics view the helicopter trips of Rennert, Bloomberg, and other wealthy residents who rely on this mode of transportation regularly as arrogant and dismissive of the impact their noise pollution has on their neighbors, ordinary residents who live with this noise problem that seems to have no resolution,
Hunter College Professor of Political Science Kenneth Sherrill says it is indicative of the arrogance of power and entitlement among the very wealthy who have stopped thinking about the political and public consequences of their actions, and do not take the fight against noise pollution seriously.